Pirate Latitudes (Paperback)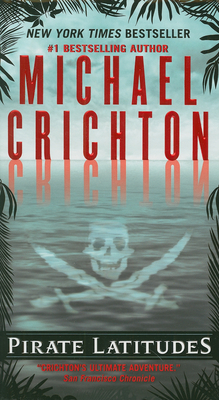 $9.99
Usually Ships in 1-5 Days
Staff Reviews
---
Ahoy maties, get ready to buckle your swash. The manuscript for this pirate, make that privateer, tale was found as a complete manuscript after Michael Crichton's death in 2008. Pirate Latitudes is set in 1665 in the Caribbean. Captain Charles Hunter decides to go after a Spanish galleon and its cargo of riches moored in the bay of a small island near Jamaica. The governor of Jamaica approves the venture, so technically, Captain Charles will not be stealing the treasure (pirateering = death by hanging), but privateering (making a profit off an enemy of England). What ensues is an adventure caper on the high seas, filled with lusty pirates, a kick-ass female warrior, a nasty villain (or two), a hurricane and, yes, a sea monster. Release the Kraken!
— From
Linda's Latest List
Description
---
"Crichton's ultimate adventure."
—San Francisco Chronicle
"Pirates Latitudes has the loot: Gore, sex, action….A lusty, rollicking 17th century adventure."
—USA Today
"Riveting….Great entertainment….The pages and minutes fly by."
—Cleveland Plain Dealer
#1 New York Times bestselling author, the incomparable Michael Crichton ("One of the great storytellers of our age" —Newsday) takes to the high Caribbean seas for an irresistible adventure of swashbuckling pirates, lost treasure, sword fights, duplicity, and hair-breadth escapes in the New World.
About the Author
---
Michael Crichton (1942—2008) was the author of the groundbreaking novels The Andromeda Strain,  The Great Train Robbery, Jurassic Park, Disclosure, Prey, State of Fear, and Next, among many others. His books have sold more than 200 million copies worldwide, have been translated into thirty-eight languages, and have provided the basis for fifteen feature films. He was the director of Westworld, Coma, The Great Train Robbery and Looker, as well as the creator of ER. Crichton remains the only writer to have a number one book, movie, and TV show in the same year.
Praise For…
---
"Unabashed fun."
— Cameron Martin, New York Times

"Offers unexpected turns and plenty of yo ho ho's."
— Richard Eisenberg, People (3 out of 4 stars)

"It's not an ironic pirate novel. It's not a pirate novel with a secret gimmick. It's simply an entertaining tale filled with crafty privateers, despicable villains, treasure hoards, double crosses and a sea monster. Go figure."
— Michael Berry, San Francisco Chronicle

"A lusty, rollicking 17th century adventure…. History as entertainment…. Crichton has done his homework."
— Bob Minzesheimer, USA Today

"The plot sucks you in like the giant kraken monster that nearly sinks our hero's galleon."
— Benjamin Svetsky, Entertainment Weekly