Krampus: The Yule Lord (Paperback)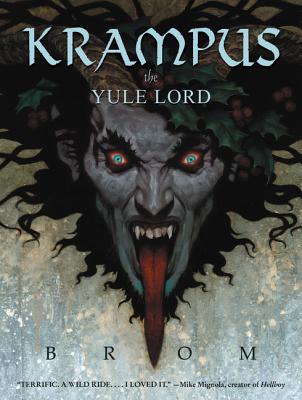 Staff Reviews
---
If you haven't heard of Krampus, the devilish Yule Lord who punishes children during Christmas, then let master storyteller and illustrator Brom be your guide. In this dark and imaginative novel, the lines between good and evil, Christmas cheer and Christmas greed, love and hate are all blurred. Hundreds of years ago Santa Claus captured Krampus, stole his magic, and left him to die imprisoned in a cave. But Krampus has endured. Now, with his power diminishing and his reputation long forgotten by the world, the only thing Krampus cares for is getting revenge on Santa. Their ancient feud is brought to light when Krampus finally breaks free. Brom pulls from the folktale's long Germanic history, connects it with Norse mythology, and fills it with macabre details and rich illustrations. As it was for Brom's Peter Pan retelling, Child Thief. the result is a fun, dark, and strangely heartwarming tale that's perfect for this time of year. (December 2015)
— Kelly
If you haven't heard of Krampus, the devilish Yule Lord who punishes children during Christmas, then let master storyteller and illustrator Brom be your guide. In this dark and imaginative novel, the lines between good and evil, Christmas cheer and Christmas greed, love and hate are all blurred. Hundreds of years ago Santa Claus captured Krampus, stole his magic, and left him to die imprisoned in a cave. But Krampus has endured. Now, with his power diminishing and his reputation long forgotten by the world, the only thing Krampus cares for is getting revenge on Santa. Their ancient feud is brought to light when Krampus finally breaks free. Brom pulls from the folktale's long Germanic history, connects it with Norse mythology, and fills it with macabre details and rich illustrations. As it was for Brom's Peter Pan retelling, Child Thief. the result is a fun, dark, and strangely heartwarming tale that's perfect for this time of year (and beyond).
--Kelly
— From
Kelly
Description
---
"Terrific. A wild ride….I loved it. It hooked me and I couldn't put it down."
—Mike Mignola, creator of Hellboy
"Brom is that rare breed: a person who is skilled in more than one area of artistic expression. Here's hoping that he will continue to share his dark and often beautiful dreams with us for many years to come." Christopher Paolini, New York Times bestselling author of Eragon
Acclaimed author and artist Brom raised eyebrows and pulse rates with The Child Thief, his grim, brilliantly audacious, gorgeously illustrated reimagining of the Peter Pan legend. So what does this innovative fantasist do for an encore? He tinkers darkly with the beloved mythology of Santa Claus. Set in Appalachia, Krampus the Yule Lord is a twisted fairytale about a failed West Virginia songwriter who gets ensnared on Christmas Eve in an eternal war between a not-so-saintly Saint Nick and his dark enemy Krampus, aka Black Peter, an ancient trickster demon. Krampus the Yule Lord is Gregory Maguire (Wicked) meets Susanna Clarke (Jonathan Strange & Mr. Norrell) in the realm of Guillermo Del Toro's Pan's Labyrinth, as Clive Barker (Mr. B. Gone) works his dark sorcery from the shadows. Once again featuring Brom's chillingly beautiful artwork throughout, Krampus the Yule Lord is a feast of wonder straight from the kitchen of Sweeney Todd.
About the Author
---
Over the past few decades, Brom has lent his distinctive vision to all facets of the creative industries, from novels and games to comics and film. He is the author of The Child Thief and the award-winning illustrated horror novels The Plucker and The Devil's Rose. Brom is currently kept in a dank cellar somewhere just outside of Seattle.
Praise For…
---
"The creator of The Child Thief, is back — and this time he's taking on the Christmas Devil. Are you ready for a studly, Nordic Santa Claus, and his scary/sexy wife?"
— Charlie Jane Anders, io9.com

"Brom is that rare breed: a person who is skilled in more than one area of artistic expression. Here's hoping that he will continue to share his dark and often beautiful dreams with us for many years to come."
— Christopher Paolini, bestelling author of Eragon on KRAMPUS

"This illustrated horror novel by acclaimed gothic fantasy artist, illustrator, and novelist Brom (The Child Thief) is perfect for anyone who disdains a cozy, sentimental holiday story."
— Library Journal

"Terrific. A wild ride--the idea sounded like a stretch and I'm not sure how many guys could have really pulled it off, but Brom sure has. I loved it. It hooked me and I couldn't put it down. Plus, the illustrations are amazing."
— Mike Mignola, creator of Hellboy on KRAMPUS

"Filled with action, fans will wonder whether Jesse joined the wrong side as increasingly it appears to him that Santa is evil. Fans will relish the Yule Lord 'is coming to town.'"
— SFRevu on KRAMPUS

"[A] rollicking, non-stop, action-filled, violent and yet touching story."
— Examiner.com on KRAMPUS