The Tiara on the Terrace (Hardcover)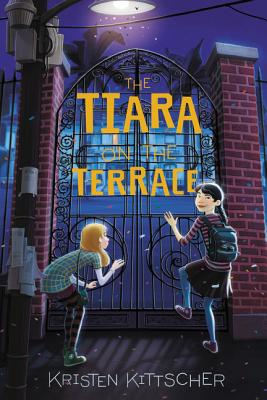 $18.69
Usually Ships in 1-5 Days
Staff Reviews
---
In The Tiara on the Terrace, the charming and much-awaited sequel to Kittscher's Indie bestseller middle grade mystery, The Wig in the Window, Sophie Young and Grace Yang are back as the intrepid tween sleuths, along with the tech-savvy Trista Bottoms. The town of Luna Vista is gearing up for the annual Winter Sun Festival (patterned after the Pasadena Tournament of Roses), but preparations are dampened when the Festival president is killed by a s'more on the campfire float. The police rule it an accident, but Grace and Sophie suspect otherwise. Grace convinces the reluctant Sophie and Trista to be Royal pages so they can infiltrate the court and snoop around. As the trio digs deeper to identify the murderer, Sophie must also wrestle with her feelings of insecurity over trying to fit in as well as her growing feelings for Rod. The result is an engaging mystery with plenty of hilarious moments and surprising plot twists.
— From
Sarah Chen
Description
---
In this funny, clever novel, perfect for fans of Pseudonymous Bosch and Gordon Korman and a companion to The Wig in the Window, tween sleuths Sophie Young and Grace Yang go undercover at Luna Vista's Winter Sun Festival to catch a murderer before he—or she—strikes again.
Sophie Young and Grace Yang have been taking it easy ever since they solved the biggest crime Luna Vista had ever seen. But things might get interesting again now that everyone is gearing up for the 125th annual Winter Sun Festival—a town tradition that involves floats, a parade, and a Royal Court made up of local high school girls.
When Festival president Jim Steptoe turns up dead on the first day of parade preparations, the police blame a malfunctioning giant s'more feature on the campfire-themed float. But the two sleuths are convinced the mysterious death wasn't an accident.
Young and Yang must trade their high tops for high heels and infiltrate the Royal Court to solve the case. But if they fail, they might just be the next victims.
Praise For…
---
"An entertaining mystery featuring kids who readily outsmart all the adults; what could be better?"

"The combination of action and reflection will keep readers engaged in the latest mystery from the Young and Yang series."

"Like the first book in the series, this action-packed mystery will have readers on the edge of their seats while at the same time reflecting on the ups and downs of friendship and the insecurities that come along with being a tween."

PRAISE FOR THE WIG IN THE WINDOW: "Ample red herrings keep young sleuths and engaged readers guessing in this thrilling debut mystery. Reminiscent of the ever-compelling film Rear Window, this appealing and often spine-tingling tale will leave its audience wishing for more."

PRAISE FOR THE WIG IN THE WINDOW: "This fast-paced, action-packed romp has all the ingredients of a great mystery... Readers will see themselves and their friends in Sophie and her classmates, and they will have a difficult time tearing themselves away."

PRAISE FOR THE WIG IN THE WINDOW: "Kittscher's debut novel addresses the inevitable rocky periods in middle-school friendships with perceptiveness, honesty, and well-targeted humor"

PRAISE FOR THE WIG IN THE WINDOW: "Funny, realistic, and suspenseful—a pitch-perfect mystery for the tween set."

PRAISE FOR THE WIG IN THE WINDOW: "A witty, weird, and wonderful book, The Wig in the Window's trouble-making detectives kept me laughing—while the suspense had me inching toward the front of my seat. A perfect middle grade mystery."