Nimona (Paperback)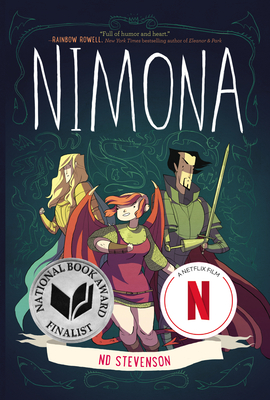 Staff Reviews
---
This is a fun and imaginative graphic novel that explores friendship, magic, and what it really means to be a hero. Nimona is a young girl who is fiercely independent, a bit impulsive, and plenty eager to create havoc around her. When she joins forces with the notorious villain, Lord Ballister Blackheart she thinks they can finally prove that the heroes at the Institution of Law Enforcement and Heroics aren't exactly who they say they are. But the lines between villainy and heroism aren't so clear and Nimona and Ballister must both work through their painful pasts before they can help make the present world a better place. Full of science, magical shapeshifting, heroes, villains and plenty of laugh out loud moments, this is a graphic novel readers of all ages can enjoy.
— From
Kelly
Description
---
Indies Choice Book of the Year * National Book Award Finalist * New York Times Bestseller * New York Times Notable Book * Kirkus Best Book * School Library Journal Best Book * Publishers Weekly Best Book * NPR Best Book * New York Public Library Best Book * Chicago Public Library Best Book
The New York Times bestselling graphic novel sensation from Noelle Stevenson, based on her beloved and critically acclaimed web comic. Kirkus says, "If you're going to read one graphic novel this year, make it this one."
Nemeses! Dragons! Science! Symbolism! All these and more await in this brilliantly subversive, sharply irreverent epic from Noelle Stevenson. Featuring an exclusive epilogue not seen in the web comic, along with bonus conceptual sketches and revised pages throughout, this gorgeous full-color graphic novel has been hailed by critics and fans alike as the arrival of a "superstar" talent (NPR.org).
Nimona is an impulsive young shapeshifter with a knack for villainy. Lord Ballister Blackheart is a villain with a vendetta. As sidekick and supervillain, Nimona and Lord Blackheart are about to wreak some serious havoc. Their mission: prove to the kingdom that Sir Ambrosius Goldenloin and his buddies at the Institution of Law Enforcement and Heroics aren't the heroes everyone thinks they are.
But as small acts of mischief escalate into a vicious battle, Lord Blackheart realizes that Nimona's powers are as murky and mysterious as her past. And her unpredictable wild side might be more dangerous than he is willing to admit.
Praise For…
---
"Noelle Stevenson has a knack for capturing the humor and heart in a situation in just a few panels."

"If you're going to read one graphic novel this year, make it this one."

"Sharp visuals, a nifty amalgam of fantasy and science fiction elements, and relationships drawn with complexity, wit, and depth create a world worth returning to again and again."

"At its core, Nimona is a story of rescue. Each of the main characters rescue allies, friendships, the Kingdom, and ultimately, themselves… A vibrant solo work."

"[Stevenson's] voice is clear and precise, her drawings confident, her use of color growing in depth and assurance as the story progresses."

"Nimona…is beautifully flawed and refreshingly unstereotypical in a book that is both darkly witty and surprisingly touching. And Nimona is a protagonist to both love and fear."

"Over the course of the collected Nimona, it's possible to watch artist Noelle Stevenson blossom from a student to a superstar."

"Nimona, with all her flaws, breaks away completely from what women are allowed to be in popular fiction."

"Graphic novel fans will finish the book in a gallop and then want to start right back at the first page."

"Awesome and adorable."

"Funny and vibrant, with wonderful energy in Stevenson's illustrations and a wicked wit in her storytelling."

"Those of you who haven't read Nimona yet are lucky, because you can buy the fantasy comic in book form instead of waiting for Noelle to post an update twice a week. Seriously, that wait was always excruciating."