The Eternal World: A Novel (Paperback)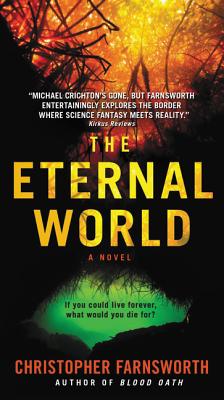 Staff Reviews
---
The Fountain of Youth. Does it exist, and if so, where and also when? More important, to what lengths would a person go to find it, keep it, and exploit the consequences of eternal youth? The Eternal World stirs up a cornucopia of times and places, including Spanish conquistadors, a Native American woman out for vengeance, a scientific prodigy specializing in biotechnology, and the conglomerate made up of very youthful men determined to keep and exploit their powerful influence, growing richer while not growing much older. When the corporation's source of their youth begins to dry up, they call upon biotechnology expert David Robinton to try and recreate their liquid gold. He believes his research will benefit all mankind, but we know better. When Shako, the daughter of the chief whose tribe was destroyed by the conquistadors, comes calling with vengeance on her mind, David must figure out who is using him and why. Oh yeah, and how to survive this epic battle of immortals. For readers who like a fast-paced supernatural thriller mixing fantasy with history.
— From
Linda's Latest List
Description
---
If you could live forever, what would you die for?
Five hundred years ago, a group of Spanish conquistadors searching for gold, led by a young and brilliant commander named Simon De Oliveras, land in the New World. What they find in the sunny and humid swamps of this uncharted land is a treasure far more valuable: the Fountain of Youth. The Spaniards slaughter the Uzita, the Native American tribe who guard the precious waters that will keep the conquistadors young for centuries. But one escapes: Shako, the chief's fierce and beautiful daughter, who swears to avenge her people—a blood oath that spans more than five centuries. . .
When the source of the fountain is destroyed in our own time, the loss threatens Simon and his men, and the powerful, shadowy empire of wealth and influence they have built. For help, they turn to David Robinton, a scientific prodigy who believes he is on the verge of the greatest medical breakthrough of all time. But as the centuries-old war between Shako and Simon reaches its final stages, David makes a horrifying discovery about his employers and the mysterious and exotic woman he loves. Now, the scientist must decide: is he a pawn in a game of immortals. . . or will he be its only winner?
About the Author
---
Christopher Farnsworth is a journalist and screenwriter and the author of six novels, including the President's Vampire trilogy. He lives in Los Angeles with his wife and daughters.
Praise For…
---
"Excellent fantasy thriller . . . The realistic approach is one of this inventive novel's major strengths."
— Publishers Weekly (starred review)

"A fantastical witch's brew of Spanish conquistadors, biotechnology, and hubris . . . with cinematic pacing and colorful action scenes, Farnsworth blends a unique premise into fun summer reading . . . entertainingly explores the border where science fantasy meets reality."
— Kirkus Reviews

"I've been a fan of Christopher Farnsworth ever since his first book, and he just keeps getting better. The Eternal World has exactly what I look for in great adventure fiction: a compelling plot, memorable characters, top-notch action scenes, and heart-stopping twists."
— Boyd Morrison, author of The Ark and, with Clive Cussler, Piranha