The Uninvited: A Novel (Paperback)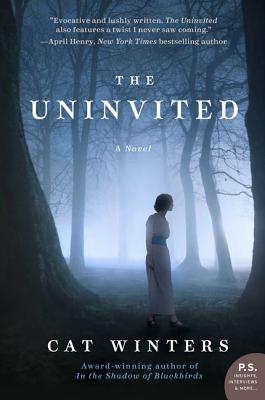 Staff Reviews
---
I loved In the Shadow of Blackbirds, so I was excited to dive into The Uninvited, a psychological thriller set in the panic of the influenza pandemic of 1918. The world has been turned upside down by the war and the deadly flu and Americans are paranoid to the point of violence against German blooded citizens. Ivy Rowan, who has a lifelong gift for seeing ghosts, rises from her sick bed seemingly a survivor of the flu, only to discover her angry drunken father and brother have murdered a German furniture maker from town. In disgust, she leaves the farm and heads to town where she is horrified by the breakdown of governing society that the panic has caused. She is drawn to the jazz music played at the Masonic Lodge and to Daniel Schendel, the now sole owner of Liberty Furniture and has no inkling of the otherworldly revelations that are about to unfold. A hauntingly great ghost story.
— From
Bunny's Books
Description
---
From the award-winning author of In the Shadow of Blackbirds comes a stunning new novel—a masterfully crafted story of love, loss, and second chances. Set during the fear and panic of the Great Influenza of 1918, The Uninvited is part gothic ghost-story, part psychological thriller, perfect for those who loved The Thirteenth Tale by Diane Setterfield or The Vanishing by Wendy Webb.
Twenty-five year old Ivy Rowan rises from her bed after being struck by the flu, only to discover the world has been torn apart in just a few short days. 
But Ivy's life-long gift—or curse—remains.  For she sees the uninvited ones—ghosts of loved ones who appear to her, unasked, unwelcomed, for they always herald impending death. On that October evening in 1918 she sees the spirit of her grandmother, rocking in her mother's chair. An hour later, she learns her younger brother and father have killed a young German out of retaliation for the death of Ivy's older brother Billy in the Great War.
Horrified, she leaves home, to discover the flu has caused utter panic and the rules governing society have broken down. Ivy is drawn into this new world of jazz, passion, and freedom, where people live for the day, because they could be stricken by nightfall. But as her 'uninvited guests' begin to appear to her more often, she knows her life will be torn apart once more, but Ivy has no inkling of the other-worldly revelations about to unfold.
The Uninvited is an atmospheric, haunting, and utterly compelling novel. 
About the Author
---
Cat Winters's debut novel, In the Shadow of Blackbirds, was released to widespread critical acclaim. The novel has been named a finalist for the 2014 Morris Award, a School Library Journal Best Book of 2013, and a Booklist 2013 Top 10 Horror Fiction for Youth. Winters lives in Portland, Oregon, with her husband and two children.
Praise For…
---
"THE UNINVITED is an affecting novel, dark in fiction and in fact. Set in 1918 against the parallel epidemics of the Spanish influenza and an equally terrifying strain of "superpatriotism," Cat Winters' latest offers resonant characters, a stunning twist, and an emotional, satisfying conclusion."
— Michelle Gable, International Bestseller of A PARIS APARTMENT

"A wonderfully atmospheric and intriguing novel. Cat Winters portrays a fascinating period in American history with clever writing and a delicious plot twist. A novel that is sure to keep readers hooked to the end."
— Hazel Gaynor, New York Times bestselling author

"compulsively readable, beautifully written and populated with characters that will hover in the air around you, long after you've set the book on your nightstand. I finished this story and wished very much I had written it."
— Wendy Webb, author of The Vanishing and The Tale of Halcyon Crane

"A mesmerizing story of life and death in one of America's darkest periods."
— Megan Shepherd, author of THE MADMAN'S DAUGHTER

"Evocative and lushly written, THE UNINVITED also features a twist I never saw coming."
— April Henry, New York Times bestselling author

"Winters' novel illustrates how the tenacity of the human spirit combines with the audacity born of necessity to triumph over even the most unthinkable challenges. Would that every chapter of history be presented in such captivating, lushly-written prose.
— Bestselling author Sophie Littlefield

"dark and romantic [...] The author effectively captures the dangers of the period, and yet Ivy finds bastions of human kindness and acceptance. Her compelling voice carries this gothic coming-of-age story, at one horrifying and tender, toward a revelatory yet hopeful conclusion."
— Publishers Weekly

"a fascinating historical fiction tale with a decidedly supernatural twist. [...] Readers who like getting immersed in a historical setting will relish Cat Winters' ability to create an almost mesmerizing atmosphere."
— Fresh Fiction

"Read this book. [...] This story is a gem with so many facets that uphold the tenets of the Gothic genre, the sensibilities of a romance, and the illuminative window to the past of a historical piece."
— USA Today, Happy Ever After blog

"an excellent ghost story: the type that is healing and moving rather than scary. Highly, highly recommended."
— Kirkus

"The Uninvited is an eerily haunting, beautifully tragic, dream-like page-turner fueled by passion, fear, and anger."
— San Francisco Book Review