Three Dark Crowns (Hardcover)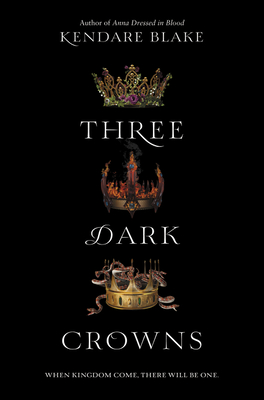 Staff Reviews
---
The fantasy island of Fennbirn's sequence of rule is unique and terrible: each generation a set of specially gifted triplets is born – when the sisters become sixteen, it's the cue for a battle to the death, with the last sister standing crowned Queen. The sisters are separated as toddlers, and are raised by separate factions, each seeking to enhance their gifts : Mirabella to direct the elements; Katharine to consume deadly poisons unscathed; and Arsinoe to exercise power over nature, both flora and fauna. The most amazing aspect of this book is that Kendare had me equally emotionally invested in each of the three to be the surviving ruler. A dark and delightful epic fantasy!
— From
Nifty Novels and More from Maryelizabeth
Description
---
New York Times Bestseller * New York Public Library Best Book of 2016 * Chicago Public Library Best Book of 2016 * Kirkus Best Book of the Year
Fans of acclaimed author Kendare Blake's Anna Dressed in Blood will devour Three Dark Crowns, a dark and inventive fantasy about three sisters who must fight to the death to become queen. And don't miss the highly anticipated sequel, One Dark Throne
In every generation on the island of Fennbirn, a set of triplets is born: three queens, all equal heirs to the crown and each possessor of a coveted magic. Mirabella is a fierce elemental, able to spark hungry flames or vicious storms at the snap of her fingers. Katharine is a poisoner, one who can ingest the deadliest poisons without so much as a stomachache. Arsinoe, a naturalist, is said to have the ability to bloom the reddest rose and control the fiercest of lions.
But becoming the Queen Crowned isn't solely a matter of royal birth. Each sister has to fight for it. And it's not just a game of win or lose...it's life or death. The night the sisters turn sixteen, the battle begins. The last queen standing gets the crown.
Be sure to catch the stunning sequel to this New York Times bestseller, One Dark Throne.