What She Knew: A Novel (Paperback)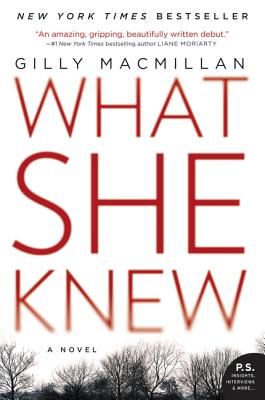 $15.99
Usually Ships in 1-5 Days
Staff Reviews
---
There have been numerous psychological thrillers that center around a missing child and the devastating toll it takes on the family. Therefore, it takes a lot for me to pay attention to a debut that utilizes this exact concept, but with Gilly Macmillan's book, I was hooked from the start. There are expected plot devices, like the strained family dynamics and vicious social media attacks, but it's done with such skill and confidence that I was completely sucked in. The story jumps between two POVs: Rachel, the distraught mother who loses her eight-year-old child, Ben, in the woods, and DI Jim Clemo, the primary investigator who shoulders the blame for the case's misguided efforts. Both storylines are equally gripping and expertly-plotted. This is a suspenseful debut that fans of Linwood Barclay and Paula Hawkins will love
— From
Sarah Chen
December '15 Indie Next List
---
"This is the story of a mother's anguish and desperation when her eight-year-old son runs ahead on an ordinary Sunday afternoon walk in a park and vanishes. It is the story of the lead detective, told partly in sessions he has with a psychologist because of the toll the case is taking on his personal life. It is the story of family and friends and the secrets they have been keeping that are slowly revealed. And it is the story of how the media and the public are quick to point fingers and assign blame. But, most of all, it is the story of a mother's love and her strength and will to push everything aside and do anything to bring her son home."
— Nancy McFarlane (E), Fiction Addiction, Greenville, SC
Description
---
"The Changeling meets an episode of Law and Order: Special Victims Unit but set in the UK." -The Skimm

THE NEW YORK TIMES BESTSELLER
In her enthralling debut, Gilly Macmillan explores a mother's search for her missing son, weaving a taut psychological thriller as gripping and skillful as The Girl on the Train and The Guilty One.
In a heartbeat, everything changes…
Rachel Jenner is walking in a Bristol park with her eight-year-old son, Ben, when he asks if he can run ahead. It's an ordinary request on an ordinary Sunday afternoon, and Rachel has no reason to worry—until Ben vanishes.  
Police are called, search parties go out, and Rachel, already insecure after her recent divorce, feels herself coming undone. As hours and then days pass without a sign of Ben, everyone who knew him is called into question, from Rachel's newly married ex-husband to her mother-of-the-year sister. Inevitably, media attention focuses on Rachel too, and the public's attitude toward her begins to shift from sympathy to suspicion.
As she desperately pieces together the threadbare clues, Rachel realizes that nothing is quite as she imagined it to be, not even her own judgment. And the greatest dangers may lie not in the anonymous strangers of every parent's nightmares, but behind the familiar smiles of those she trusts the most.
Where is Ben? The clock is ticking...
About the Author
---
Gilly Macmillan is the Edgar Nominated and New York Times bestselling author of What She Knew. She grew up in Swindon, Wiltshire and lived in Northern California in her late teens. She worked at The Burlington Magazine and the Hayward Gallery before starting a family. Since then she's worked as a part-time lecturer in photography, and now writes full-time. She resides in Bristol, England.
Praise For…
---
"Gilly Macmillan introduces some smart variations on the [missing child] theme in her debut mystery...Macmillan enlivens the narrative with emails, newspaper headlines, passages from professional journals, even transcripts from Inspector Clemo's sessions with a psychotherapist. But her best move is to include vicious blog posts that go viral."
— New York Times Book Review

"This accomplished, intelligent debut should come with a warning--it's completely addictive. A nail-biting, sleep-depriving, brilliant read."
— Saskia Sarginson, author of The Twins

"Every parent's nightmare, handled with intelligence and sensitivity, the novel is also deceptively clever. I found myself racing through to find out what happened."
— Rosamund Lupton, international bestselling author of Sister

"Tightly focused and fast-paced. You won't rest until you really know what happened."
— Lisa Ballantyne, author of The Guilty One

"A nuanced, completely addictive debut."
— People

"Heart-in-the-mouth excitement from the start of this electrifyingly good debut…an absolute firecracker of a thriller that convinces and captivates from the word go. A must read."
— Sunday Mirror

"A mother and son spend an ordinary Sunday at a park near Londontown. Until the boy goes missing. Cue dramatic music. This read's basically The Changeling meets an episode of Law and Order: Special Victims Unit but set in the UK."
— The Skimm

"What an amazing, gripping, beautifully written debut. WHAT SHE KNEW kept me up late into the night (and scared the life out of me)."
— Liane Moriarty, New York Times bestselling author

"One of the brightest debuts I have read this year - a visceral, emotionally charged story….heart-wrenchingly well told and expertly constructed, this deserves to stay on the bestseller list until Christmas"
— The Daily Mail

"A terrific debut"
— Reader's Digest

"A very clever, tautly plotted page turned from a terrific new writer"
— Good Housekeeping

"An engaging debut."
— Kirkus Reviews

"Macmillan peppers her debut with subtle red herrings and a variety of potential suspects, ratcheting up the tension slowly but oh so deliciously."
— Booklist

"Readers will have a tough time putting this one down.
— Publishers Weekly

"…a clever, dark, compulsive read… If you liked <em>All the Missing Girls</em> by Megan Miranda, you'll also enjoy this one."
— Birmingham magazine

"If you like a good nail-biting, scary read...[t]his was a brilliant read!...This story is fast-paced, smart, technologically current, and every parent's nightmare! If you enjoyed the film I did, Kidnap, you'll love this addictive adventure."
— Halle Berry