Pirate Latitudes: A Novel (Paperback)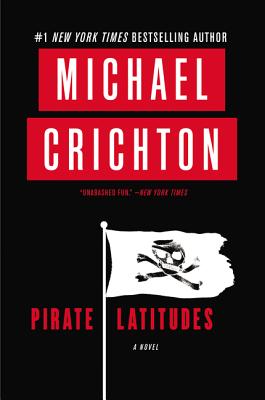 $18.69
Usually Ships in 1-5 Days
Description
---
In this New York Times bestselling novel, master of suspense Michael Crichton delivers an irresistible tale of swashbuckling pirates in the New World—a classic story of treasure and betrayal.
The Caribbean, 1665. A remote colony of the English Crown, the island of Jamaica holds out against the vast supremacy of the Spanish empire. Port Royal, its capital, is a cutthroat town of taverns, grog shops, and bawdy houses. In this steamy climate there's a living to be made, a living that can end swiftly by disease—or by dagger. For Captain Charles Hunter, gold in Spanish hands is gold for the taking, and the law of the land rests with those ruthless enough to make it. Word in port is that a galleon, fresh from New Spain, is awaiting repairs in a nearby harbor....
Pirate Latitudes is Michael Crichton at his best: a rollicking adventure tale pulsing with relentless action, crackling atmosphere, and heart-pounding suspense.
About the Author
---
Michael Crichton (1942—2008) was the author of the groundbreaking novels The Andromeda Strain,  The Great Train Robbery, Jurassic Park, Disclosure, Prey, State of Fear, and Next, among many others. His books have sold more than 200 million copies worldwide, have been translated into thirty-eight languages, and have provided the basis for fifteen feature films. He was the director of Westworld, Coma, The Great Train Robbery and Looker, as well as the creator of ER. Crichton remains the only writer to have a number one book, movie, and TV show in the same year.
Praise For…
---
"Unabashed fun."
— Cameron Martin, New York Times

"Offers unexpected turns and plenty of yo ho ho's."
— Richard Eisenberg, People (3 out of 4 stars)

"It's not an ironic pirate novel. It's not a pirate novel with a secret gimmick. It's simply an entertaining tale filled with crafty privateers, despicable villains, treasure hoards, double crosses and a sea monster. Go figure."
— Michael Berry, San Francisco Chronicle

"A lusty, rollicking 17th century adventure…. History as entertainment…. Crichton has done his homework."
— Bob Minzesheimer, USA Today

"The plot sucks you in like the giant kraken monster that nearly sinks our hero's galleon."
— Benjamin Svetsky, Entertainment Weekly