Sinless (Eye of the Beholder #1) (Paperback)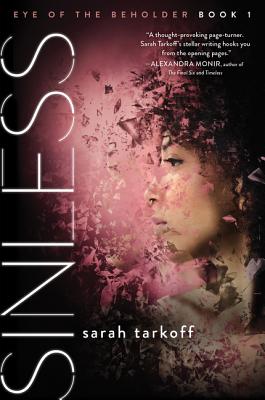 Staff Reviews
---
Los Angeles screenwriter Tarkoff's debut near-future SF novel is set in a world with a near-global acceptance of a single religious being, the Great Spirit, following the apparent manifestation of individual's morality in their physical appearance. People's interior values are reflected in their looks, ranging from the healthy clear skin and appealing faces of the "good," to physical distortions among the Outcast so severe as to result in fatalities. Preacher's daughter Grace Luther is a believer, but she begins to question the reliability and apparent capriciousness of the judgments. An interesting examination of the values society sets on beautiful people.
— From
Nifty Novels and More from Maryelizabeth
Description
---
With shades of Scott Westerfeld's Uglies and Ally Condie's Matched, this cinematic dystopian novel—the first in the thrilling Eye of the Beholder series—is set in a near future society in which "right" and "wrong" are manifested by beauty and ugliness.
In Grace Luther's world, morality is physically enforced. Those who are "good" are blessed with beauty, while those who are not suffer horrifying consequences—disfigurement or even death. The daughter of a cleric, Grace has always had faith in the higher power that governs her world. But when she stumbles onto information that leaves her questioning whether there are more complicated—and dangerous—forces manipulating the people around her, she finds herself at the center of an epic battle, where good and evil are not easily distinguished. Despite all her efforts to live a normal teenage life, Grace is faced with a series of decisions that will risk the lives of everyone she loves—and, ultimately, her own.
With each page in this electrifying debut novel, Sarah Tarkoff masterfully plunges us into a nightmarish vision of the future. Full of high drama and pulsating tension, Sinless explores the essential questions teenagers wrestle with every day—What is beauty? What is faith? Do we take our surroundings at face value and accept all that we have been taught, or do we question the mores of the society into which we are born?—and places them in the context of a dark, dystopian world where appearances are most definitely deceiving.
About the Author
---
Sarah Tarkoff has written for the CW series Arrow. Other TV writing credits include ABC's Mistresses, Lifetime's Witches of East End, and the animated series Vixen and The Ray. She graduated from the University of Southern California with a degree in screenwriting (hence all the screenwriting), and currently lives in Los Angeles. Sinless is her debut novel.
Praise For…
---
"Tarkoff's debut and the first in her Eye of the Beholder series challenges the reality of what it means to be beautiful."
— Booklist

"What [begins] as girl-meets-boy escalates to geopolitical intrigue, espionage, daring rescues, and Grace's growing, bittersweet self-awareness of what it really means to be a good person. Clever worldbuilding elevates the story...and the plot is juicy enough to carry readers to the sequel."
— Kirkus Reviews

"What if people had to wear their true disposition on their face? That's the question that Sarah Tarkoff asks in this page turning, sensationally original, piece of debut fiction. Throw God, spirituality and young love in there as well and you have a provocative and timely book."
— Amy S. Foster, author of the Rift Uprising Trilogy

"A thought-provoking page-turner. Sarah Tarkoff's stellar writing hooks you from the opening pages."
— Alexandra Monir, author of The Final Six and Timeless