Flashmob: A Novel (Hardcover)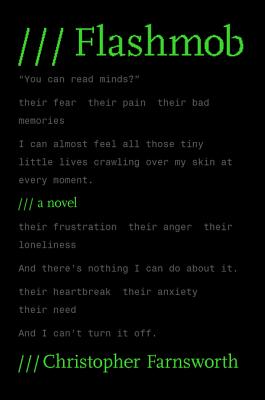 $26.99
Usually Ships in 1-5 Days
Staff Reviews
---
In this sequel to Killfile, mind reader John Smith must track down an internet mastermind who has created an encrypted site on the "dark net" called "Downvote". This site lists names of celebrities and bounties offered for their demise, causing a deadly flashmob almost impossible to defend against. After tracking down an elusive billionaire who is threatened, Smith teams up with the billionaire's scary tough female bodyguard to track down this nefarious criminal. The chase leads them all over the world, from Hong Kong to Iceland to Laos. This guy is elusive, but it's almost impossible to hide from a tough guy who can also read minds. I love chase novels, whether the good guy is being chased or doing the chasing. When the bad guy becomes aware of Smith's pursuit, you guessed it, the chaser becomes the chased. Great fast-paced thriller with scary implications regarding our internet privacy and safety. Recommended for fans of Michael Crichton and James Rollins.
— From
Linda's Latest List
Description
---
Publishers Weekly's Best Books of 2017
Gifted troubleshooter John Smith, introduced in the acclaimed thriller Killfile, must take down a shadowy figure who has weaponized the internet, using social media to put a price on the heads of his targets in this intense, unstoppable thriller from the author reviewers have compared to Michael Crichton, Brad Thor, and James Rollins.
As a fixer for America's one percent, John Smith cleans up the messes of those rich enough to afford him. But he's no ordinary gun for hire. Smith is a man of rare gifts, including the ability to read minds. Arriving at the wedding of Kira Sadeghi, a reality television celebrity he recently saved from kidnappers, Smith witnesses a group of gunmen open fire, hitting the bride and others. Though he's unarmed, Smith cripples one of the killers and is able to pry one word from his mind: "Downvote."
Eager to learn more, Smith hacks into the brain of an FBI agent investigating the attack to discover the Bureau has been investigating a nefarious new threat called "Downvote," an encrypted site on the "dark net" that lists the names of celebrities and offers a hefty bounty for anyone who can kill them—unleashing an anonymous and deadly flashmob with a keystroke.
Finding a mastermind on the internet is like trying to catch air—unless you're John Smith. Motivated by money and revenge, he traces a series of electronic signatures to a reclusive billionaire living at sea, accompanied by a scary-smart female bodyguard who becomes Smith's partner in his quest. The hunt for their prey will lead from Hong Kong to Reykjavik to a luxury gambling resort deep in the Laotian jungle. Yet always this criminal mastermind remains one step ahead.
The only way Downvote's creator can stop Smith is to kill him . . . because while this diabolical genius can run, there's no hiding from a man who can read minds.
About the Author
---
Christopher Farnsworth is a journalist and screenwriter and the author of six novels, including the President's Vampire trilogy. He lives in Los Angeles with his wife and daughters.
Praise For…
---
"Brilliant…intelligence and knuckle-biting suspense. Many will want to read this novel in one sitting."
— Publishers Weekly

"This is another entertaining performance by Farnsworth, who brings an edgey sense of humor to the proceedings."
— Kirkus

"The main elements of Farnsworth's brilliant second thriller featuring the man known as John Smith would individually be enough to sustain interest; the combination of a telepathic lead and a terrifyingly plausible effort to use the Internet for social manipulation produces intelligent and knuckle-biting suspense . . . Farnsworth credibly ups the ante for his hero and makes accepting his paranormal abilities easy. Many will want to read this novel in one sitting."
— Publishers Weekly, *starred* boxed review

"Farnsworth . . . is a genuinely gifted storyteller, able to take a fantastic premise and build onto it a story that feels not just plausible but completely natural . . . A fine genre-bender."
— Booklist

Farnsworth has a definite knack for taking something relatively esoteric, combining it with something just a little the other side of ordinary, and winding up with something totally possible and incredibly readable.Character development is quite strong in the book as well. However, what I liked most about Flashmob is its premise.The book shows the tremendous power rapid advances in modern technology such as social networking and the "Internet of Things" have in our lives and how they can be turned against us by evil persons. The book is a dire warning to our society, a stark reminder that we must use modern technology with great responsibility, especially with all the advancements that happen almost daily."
— Reviewing the Evidence

"Flashmob is even more suspenseful than its predecessor, Killfile. Farnsworth writes in first-person in the present tense, which greatly adds to the suspense. This technique allows the reader to immerse themselves into the plot and closely follow the action."
— San Francisco Book Review

"[In] Christopher Farnsworth's clever new international thriller . . . it's Smith's amazing strength that profoundly weakens him at times. [This] offers a very original twist in a creepy tale about stalking, social media madness, celebrity, the Dark Net, privacy in the digital age, Internet cruelty, cyber crime, and mob psychosis . . . . deft story-telling and the explosive finale which made me think of master thriller writer Joseph Finder. Flashmob is truly disturbing. It's one thing to worry about computer programs that can perform highly intrusive surveillance on you, it's another to think of people who can insidiously do the exact same thing mentally while drinking a cappuccino just a few tables away from you at Starbucks."
— Huffington Post