Wink Poppy Midnight (Paperback)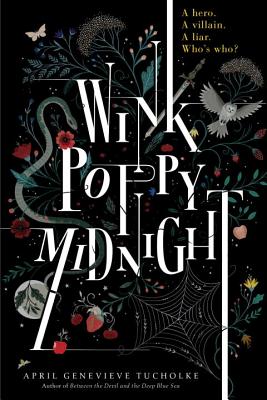 Staff Reviews
---
Midnight is a boy trying to start a new life. Wink is the wild, unpredictable bright eyed girl who is his new neighbor. And Poppy is the beautiful bully who always gets her way. This is their story. Brief chapters in each of their perspectives make up this tumultuous, twisted story of deceit, love, and jealousy. Tucholke's ghostlike writing borders on the gothic and its twists and turns leave the characters and readers alike guessing who is telling the truth. The book moves quickly and yet lingers in the best way possible, leaving you to question what—and who—is real. Ethereal, strangely timeless, and haunting, this book stays with you long after you turn its last page. 
— Kelly Orazi
Description
---
"Any Pretty Little Liars superfan won't be able to put down this thriller."--Seventeen Magazine

"A novel drawing major comparisons to E. Lockhart's We Were Liars."--TeenVogue.com

Every story needs a hero. Every story needs a villain. Every story needs a secret.

Wink is the odd, mysterious neighbor girl, wild red hair and freckles. Poppy is the blond bully and the beautiful, manipulative high school queen bee. Midnight is the sweet, uncertain boy caught between them. Wink. Poppy. Midnight. Two girls. One boy. Three voices that burst onto the page in short, sharp, bewitching chapters, and spiral swiftly and inexorably toward something terrible or tricky or tremendous.

What really happened? Someone knows. Someone is lying.
About the Author
---
April Genevieve Tucholke is the author of Between the Devil and the Deep Blue Sea and Between the Spark and the Burn and curated the horror/thriller anthology Slasher Girls & Monster Boys. April has lived in many places around the world and currently resides in Oregon with her husband.
Praise For…
---
Praise for Wink Poppy Midnight

"Any Pretty Little Liars superfan won't be able to put down this thriller featuring three unreliable teen narrators, plenty of lies, and a shocking twist ending."--Seventeen Magazine

"In a novel drawing major comparisons to E. Lockhart's We Were Liars...Two girls. One boy. Three voices that burst onto the page in short, sharp, bewitching chapters, and spiral swiftly and inexorably toward something terrible or tricky or tremendous."--TeenVogue.com

"Mesmerizing, suspenseful . . . Hard to put down . . . You'll be dying to get to the end and figure out what's what. And then you'll be flipping back through to see how you missed the clues. Wink Poppy Midnight is a quick and delightful read."--The New York Daily News

* "Tucholke walks a fine, spine-chilling line. . . . An eerie, tangled story with plenty of questions: Who can be trusted? Who—or what—pulls the strings? . . . The book keeps readers wondering. Nicely constructed and planned, with unexpected twists to intrigue and entertain."—Kirkus Reviews, starred review

"A dark, unpredictable mystery that . . .  shimmer[s] with sumptuous descriptions and complicated psychologies. . . . Occult accoutrements, descriptions of the wild landscape, and a twisting-turning plot create an uncertain atmosphere that constantly shift readers' perceptions of who is trustworthy."—Publishers Weekly

"Tucholke showcases her talent for storytelling once again. . . . Unique characterization turns archetypes inside out. . . . This title will keep readers on their toes. . . . Recommended."—School Library Journal


"Wink Poppy Midnight features three strongly delineated first-person narrators. Dark and compelling, it challenges the reader in the best way."—Kenny Brechner, PW ShelfTalker