Emperor Mollusk versus The Sinister Brain (Paperback)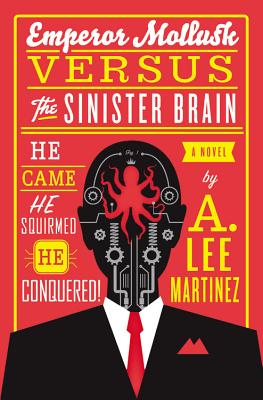 $13.99
Usually Ships in 1-5 Days
Staff Reviews
---
Emperor Mollusk, loved by Terrans, reviled by the inhabitants of just about every other planet in the system, has got the would-be-villain of the galaxy out for his former title as boss of the sauce! Funny, irreverent, and squishy, Emperor Mollusk versus The Sinister Brain is sure to make you laugh and wish you had a benevolent tentacled overlord in a exosuit looking out for your interests.
— From
Jaclyn Taylor
What's a spineless (literally), conquering warlord to do once a planet's inhabitants have been subjugated? Emperor Mollusk, conqueror and now benevolent ruler of Earth, is bored. He, his loyal pet ultrapede Snarg, and his tough Venusian army commander Zala are hanging out at his lair on Dinosaur Island, experimenting with the earth's polarity when a new challenge rears it's ugly head, er, make that brain. No body, just a brain. The Sinister Brain and his nefarious brain gang, the Council of Egos, are fervently plotting to take over the universe. Luckily, Emperor Mollusk has plenty of weapons hidden under his tentacles. That about sums up the plot. Plenty of crazy action, with skewed science, a cool death ray, and robots that definitely don't follow the rules, Emperor Mollusk Versus the Sinister Brain is for readers that like their science fiction pulpy. Similar to John Zakour's Plutonium Blonde.
Linda's Latest List
Description
---
Emperor Mollusk.

Intergalactic Menace. Destroyer of Worlds. Conqueror of Other Worlds. Mad Genius. Ex-Warlord of Earth.

Not bad for a guy without a spine.

But what's a villain to do after he's done . . . everything. With no new ambitions, he's happy to pitch in and solve the energy crisis or repel alien invaders should the need arise, but if he had his way, he'd prefer to be left alone to explore the boundaries of dangerous science. Just as a hobby, of course.

Retirement isn't easy though. If the boredom doesn't get him, there's always the Venusians. Or the Saturnites. Or the Mercurials. Or . . . well, you get the idea. If that wasn't bad enough, there's also the assassins of a legendary death cult and an up-and-coming megalomaniac (as brilliant as he is bodiless) who have marked Emperor for their own nefarious purposes. But Mollusk isn't about to let the Earth slip out of his own tentacles and into the less capable clutches of another. So it's time to dust off the old death ray and come out of retirement. Except this time, he's not out to rule the world. He's out to save it from the peril of THE SINISTER BRAIN!
About the Author
---
A. Lee Martinez was born in El Paso, Texas. At the age of eighteen, for no apparent reason, he started writing novels. Thirteen short years (and a little over a dozen manuscripts) later, his first novel, Gil's All Fright Diner, was published. His hobbies include juggling, games of all sorts, and astral projecting. Also, he likes to sing along with the radio when he's in the car by himself. For more information on the author, check out www.aleemartinez.com
Praise For…
---
"Abundant, zany humor."—Publishers Weekly on Monster

"Divine Misfortune reads like a mash-up of Neil Gaiman, Monty Python, and a sugar-bombed nine-year old."—Locus