Murder as a Fine Art (Thomas and Emily de Quincey #1) (Paperback)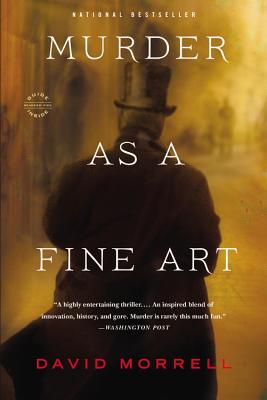 Staff Reviews
---
I have always looked forward to reading a new book by David Morrell, knowing it will be scrupulously researched with attention to details, along with fast-paced action, pulling you into the story with a fierce grip. "Must keep reading" you tell yourself at 2 A.M. "To hell with work tomorrow." Murder as a Fine Art takes us to Victorian London. The story begins with the very accurate retelling of a brutal massacre occurring 40 years earlier known as the Ratcliffe Highway murders. David warns us in the introduction that the description of the slaughter is accurate. He introduces Thomas De Quincey, the famous, or infamous author known for his memoir Confessions of as English Opium- Eater.  DeQuincey also wrote an essay detailing the Ratcliffe Highway murders and becomes a prime suspect in a series of copycat killings mirroring the ones 43 years ago that caused panic in the streets. His efforts to prove his innocence are hampered by his need to chug back the laudanum to function. Fortunately he is accompanied by his daughter Emily, a delightfully outspoken, no-hoop-wearing modern woman, who provides moral and physical support for her father when he is weakened. She also manages to contribute to the investigation led by a Scotland Yard detective and a very likable policeman. We learn about techniques of investigation just beginning to be used by the newly formed Scotland Yard and the changing Victorian London verging on the industrial age. Appealing to those fans of historical crime fiction, of course, but also to anyone who enjoys a fast-paced, well-written thriller full of quirky characters and fascinating historical figures.
— From
Linda's Latest List
Description
---
ALA Reading List Award for Best Mystery
GASLIT LONDON IS BROUGHT TO ITS KNEES IN DAVID MORRELL'S BRILLIANT HISTORICAL THRILLER. Thomas De Quincey, infamous for his memoir Confessions of an English Opium-Eater, is the major suspect in a series of ferocious mass murders identical to ones that terrorized London forty-three years earlier. The blueprint for the killings seems to be De Quincey's essay "On Murder Considered as One of the Fine Arts." Desperate to clear his name but crippled by opium addiction, De Quincey is aided by his devoted daughter Emily and a pair of determined Scotland Yard detectives. In Murder as a Fine Art, David Morrell plucks De Quincey, Victorian London, and the Ratcliffe Highway murders from history. Fogbound streets become a battleground between a literary star and a brilliant murderer, whose lives are linked by secrets long buried but never forgotten.
About the Author
---
David Morrell is best known for his debut 1972 novel First Blood, which would later become the successful Rambo film franchise starring Sylvester Stallone. He has written 28 novels, and his work has been translated into 26 languages. He is also a former professor of American Literature at the University of Iowa and received his PhD from Penn State.
Praise For…
---
"A literary thriller that pushes the envelope of fear...Morrell's thorough and erudite research of the people and cultures of the British Empire's heyday informs every page."—Associated Press

"Morrell writes action scenes like nobody's business."—New York Times Book Review

"A brilliantly plotted thriller that will take you to the cobble-stoned streets of Victorian London."—Entertainment Weekly

"An absolute master of the thriller."—Dean Koontz

"Military-thriller writer Morrell switches genres here in a riveting novel packed with edifying historical minutiae seamlessly inserted into a story narrated in part by De Quincey's daughter and partly in revealing, dialogue-rich prose."—Booklist, starred review

"Brilliant. Everything works--the horrifying depiction of the murders, the asides explaining the impact of train travel on English society, nail-biting action sequences--making this book an epitome of the intelligent page-turner."—Publishers Weekly (starred review)

" Murder as a Fine Art is a masterpiece-I don't use that word lightly-a fantastic historical thriller, beautifully written, intricately plotted, and populated with unforgettable characters. It brilliantly re-creates the London of gaslit streets, fogs, hansom cabs, and Scotland Yard. If you liked The Alienist, you will absolutely love this book. I was spellbound from the first page to last."—Douglas Preston, coauthor of the #1 bestseller Cold Vengeance

"London 1854, noxious yellow fogs, reeking slums, intrigues in high places, murders most foul, but instead of Sherlock Holmes solving crimes via the fine art of deduction, we have the historical English Opium-Eater himself, Thomas De Quincey. David Morrell fans-and they are legion-can look forward to celebrating Murder as a Fine Art as one of their favorite author's strongest and boldest books in years."—Dan Simmons, author of Drood and The Terror

"Morrell's use of De Quincey's life is absolutely amazing. I literally couldn't put it down: I felt as though I were in Dickens as he described London's fog and in Wilkie Collins when we entered Emily's diary. There were beautiful touches all the way through. Murder as a Fine Art is a triumph."—Robert Morrison, author of The English Opium Eater

"The finest thriller writer living today, bar none."—Steve Berry