The Cruel Prince (Folk of the Air #1) (Hardcover)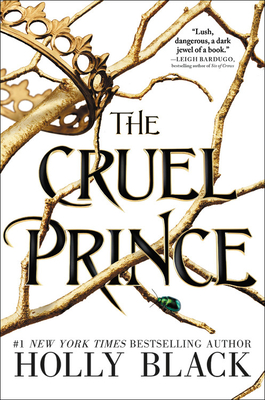 Staff Reviews
---
The Cruel Prince is a tale that leaves you wickedly smiling
with an insatiable craving for the second book to be in your
hands. If you have never read Holly Black, now is the perfect
time to start. She writes devastatingly beautiful yet cruel Fae
that inexplicably enthrall you, pulling you deeper and deeper
into their world, when truly the only thing you should feel
towards them is fear. Be careful though, for as our protagonist
finds out, a human will never belong in their glittering courts
and is viewed as little more than
entertainment. Oh, what a twisted thing
we become in the attempt to surpass our
tormentors... 
— Constance
I was enthralled by Holly Black's tale of Jude, a mortal teen raised in Faerie and determined to earn a permanent place for herself. Holly not only involves readers with familiar themes of teen alienation from family (including fey and mortal and blended siblings), choosing one's own path and companions, and conflicts with schoolmates (who just happen to be Faerie royalty), but also builds a Faerie that is wonderfully weird and alien. Recommended for fans of Laini Taylor and Kiersten White.
— From
Nifty Novels and More from Maryelizabeth
Holly Black knows how to write faeries. This book is so well-written, for it is dark and entertaining. You will be just as enchanted as our main character Jude is by the mysterious Princes and political intrigue. A must-read for fantasy lovers
~Kaitlyn
— From
Kaitlyn's Picks!
Description
---
An instant New York Times bestseller
By #1 New York Times bestselling author Holly Black, the first book in a stunning new series about a mortal girl who finds herself caught in a web of royal faerie intrigue.
Of course I want to be like them. They're beautiful as blades forged in some divine fire. They will live forever.
And Cardan is even more beautiful than the rest. I hate him more than all the others. I hate him so much that sometimes when I look at him, I can hardly breathe.
Jude was seven years old when her parents were murdered and she and her two sisters were stolen away to live in the treacherous High Court of Faerie. Ten years later, Jude wants nothing more than to belong there, despite her mortality. But many of the fey despise humans. Especially Prince Cardan, the youngest and wickedest son of the High King.
To win a place at the Court, she must defy him--and face the consequences.
In doing so, she becomes embroiled in palace intrigues and deceptions, discovering her own capacity for bloodshed. But as civil war threatens to drown the Courts of Faerie in violence, Jude will need to risk her life in a dangerous alliance to save her sisters, and Faerie itself.
About the Author
---
Holly Black is the bestselling author of contemporary fantasy novels, including Tithe: A Modern Faerie Tale and the #1 New York Times bestselling Spiderwick series. She has been a finalist for the Mythopoeic Award and the Eisner Award, and the recipient of the Andre Norton Award. Holly lives in Massachusetts with her husband, Theo, in a house with a secret library.