Touch (Paperback)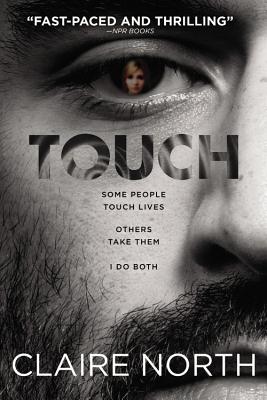 Staff Reviews
---
Wow! I was hooked on Touch from the first page. Kepler recounts watching the body she (he?) had just been occupying die from an assassin's bullets. Then the gunman turns away from the body known as Josephine, still looking for her. He knows she can switch hosts. Kepler is not safe yet. Touch has the pace of an express train with faulty brakes. A continuous chase novel with accounts of past lives thrown in to bring humanity to characters constantly changing bodies and circumstances. Kepler treats her host bodies well, even coming to care for them deeply, especially Josephine. So when Josephine is murdered, Kepler looks for revenge. What does it mean to be human? What's love got to do with it? How can a thrilling science fiction novel manage to explore the meaning of life at a profound level while still sending the reader on a roller coaster ride with twists and turns on every page? Be prepared to set aside some time to read Touch because you won't want to put this book down.
— From
Linda's Latest List
Description
---
Touch is the electrifying new thriller from the author of The First Fifteen Lives of Harry August.
He tried to take my life. Instead, I took his.
It was a long time ago. I remember it was dark, and I didn't see my killer until it was too late. As I died, my hand touched his. That's when the first switch took place.
Suddenly, I was looking through the eyes of my killer, and I was watching myself die.
Now switching is easy. I can jump from body to body, have any life, be anyone.
Some people touch lives. Others take them. I do both.
About the Author
---
Claire North is a pseudonym for Catherine Webb, a Carnegie Medal-nominated author whose first book was written when she was just fourteen years old. She went on to write several other novels in various genres, before publishing her first major work as Claire North, The First Fifteen Lives of Harry August, in 2014. It was a critically acclaimed success, receiving rave reviews and an Audie nomination, and was included in the Washington Post's Best Books of the Year list. Her most recent novel, Touch, was also in the Washington Post's Best Books of the Year, in 2015.
Praise For…
---
"A brilliantly balanced knife's edge of a book - fast-paced and thrilling, it's somehow also languorous, thoughtful, intelligently intimate. Kepler is a thoroughly absorbing and sympathetic anti-hero, trying to minimize harm while striving for survival."—NPR Books on Touch

"Touch is a story within a story within a story and it's one of the cleverest, most compelling books I've read in a long time. The intoxicating voice, ingenious premise and intricate plot will have readers clamouring for a copy. Touch has bestseller written all over it and Claire North is one hell of a writer."—C. L. Taylor, author of The Accident on Touch

"Touch is fast, smart, cinematic and with a cracking central idea. This is absolutely destined to be one of the biggest thrillers of 2015... A very, very impressive second outing."—Rick O'Shea, radio presenter, on Touch

"Seriously I cannot get over how amazingly good Claire North is. I could have read this book forever. The First Fifteen Lives of Harry August was so smart, Touch is beyond genius. This will be one of THE books of 2015. Mark my words."—Bite the Book (Australia) on Touch

"The high stakes and breakneck pace of the plot will draw readers in, and the meditations on what it means to be human and to be loved will linger long after the last shot is fired."—Kirkus on Touch

"A work of sparkling originality that works both as mesmerising thriller and exploration of what it means, at the most profound level, to be human."—Alex Marwood, author of The Wicked Girls on Touch

"I was totally and utterly gripped, it's just extraordinary. Absolutely mesmerizing."—Clare Mackintosh, author of I Let You Go on Touch

"This novel is utterly engaging, addictive, and thought-provoking. The characters are superbly drawn, their interactions realistic and engaging."—Civilian Reader on Touch

"Fast-paced, imaginative...masterful."—Washington Post on Touch

"Little short of a masterpiece."—Independent (UK) on Touch

"Another thrilling leap into the unknown."—Toronto Sunday Star on Touch

"North's talent shines out."—Sunday Times on Touch