Six Wakes (Paperback)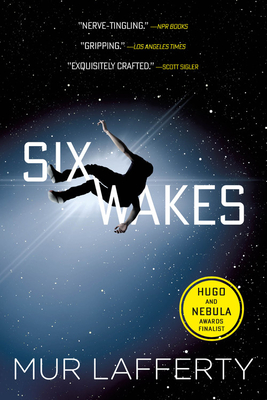 Staff Reviews
---
And Then There Were None meets Alien in this locked-room, SF-thriller, which grips you from the first scene in the frozen depths of space. On the generational starship, Dormire, Maria bolts awake in a cloning vat, her core-self freshly imprinted after she was killed. Five other crewmates have been brutally murdered, and their new incarnations awake near their own floating corpses. The artificial gravity is off, the ship is far off course, and the A.I. that runs the ship is starting to reboot. The cloning machine that saved Maria has been sabotaged, so if someone kills her now, there's no coming back. One of the Dormire's crew is the murderer; problem is, all of them have blood on their hands. Two thousand hibernating souls will never revive if she doesn't stop the killer before she dies again.
— From
Rob Crowther
Description
---
Nominated for the Hugo Award for Best Novel 2018
Nominated for the Nebula Award for Best Novel 2018
In this Hugo nominated science fiction thriller by Mur Lafferty, a crew of clones awakens aboard a space ship to find they're being hunted-and any one of them could be the killer.
Maria Arena awakens in a cloning vat streaked with drying blood. She has no memory of how she died. This is new; before, when she had awakened as a new clone, her first memory was of how she died.
Maria's vat is one of seven, each one holding the clone of a crew member of the starship Dormire, each clone waiting for its previous incarnation to die so it can awaken. And Maria isn't the only one to die recently...

Unlock the bold new science fiction thriller that Corey Doctorow calls Mur's "breakout book".

About the Author
---
Mur Lafferty is a writer, podcast producer, gamer, runner, and geek. She is the host of the podcast I Should Be Writing and the co-host of Ditch Diggers. She is the winner of the 2013 John W. Campbell Award for Best New Writer. She is addicted to computer games, Zombies, Run!, and Star Wars LEGO. She lives in Durham, NC with her husband and daughter.
Praise For…
---
"Six Wakes is [Mur Lafferty's] breakout book."—Cory Doctorow

"This is one of the cleverest and most exciting murder mysteries I have ever read. The confined space of the colony ship Dormire is filled with feisty and memorably strange characters who bounce off one another in ways that vary from the comic to the horrific. You like ideas in your science fiction? Lafferty does for clones what Asimov did for robots. Six Wakes will keep you turning pages right up to its startling climax. Mur Lafferty scores in this, her best book!"—James Patrick Kelly, winner of the Hugo, Nebula, and Locus awards

"Mysterious and tense . . . . I wish I wrote this book."—New York Times bestselling author Chuck Wendig

"A taut, nerve-tingling, interstellar murder mystery with a deeply human heart."—NPR




"An exquisitely crafted puzzle box that challenges our thoughts on what it means to be human - Six Wakes is a scifi murder mystery of light speed intensity."— New York Times bestselling author Scott Sigler




"Lafferty keeps the reader guessing and throws in just enough twists and turns to keep us on the edge of our seat . . . . I loved this book and am excited to read what Lafftery has in store for us next."—Barnes & Noble Science Fiction and Fantasy Blog

"Lafferty delivers a
tense nail-biter of a story fueled by memorable characters and thoughtful
worldbuilding. This space-based locked-room murder mystery explores complex
technological and moral issues in a way that's certain to earn it a spot on
award ballots."—Publishers Weekly (starred review)

"Polished writing and a cast of characters who are emotionally on edge make this space adventure a compelling murder-mystery that takes its time revealing the details necessary for readers to rule out possible culprits. The suspense is kept at the forefront of this clever, politically charged tale."—RT Books Reviews

"Lafferty delivers the ultimate locked-room mystery combined with top-notch sf worldbuilding. The puzzle of who is responsible for the devastation on the ship keeps the pages turning."—Library Journal (starred review)

"This is a great book with so much going for it: clever structure, wonderful characters, and a fiendishly clever puzzle that you'll roll over in your mind for months after you close the covers."—BoingBoing




"And Then There Were None meets Alien in this locked-room, SF-thriller, which grips you from the first scene in the frozen depths of space."—Mysterious Galaxy

"Six Wakes is engrossing and thoroughly satisfying, and Lafferty succeeds at both laying down a mystery and creating a stand-alone sci-fi novel."—Sword & Spaceships (Book Riot)