The Tourist (Hardcover)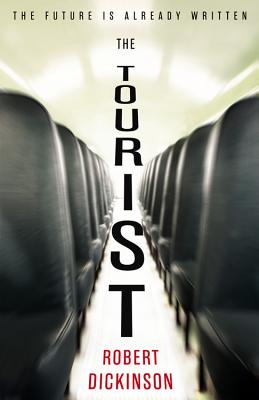 $28.60
Usually Ships in 1-5 Days
Staff Reviews
---
Robert Dickinson's The Tourist is a terrifically smart time-travel novel. Dickinson gets everything right about time travel, were it real: the time tourists and the time tourism business, the music fans from the future shadowing Bach and Beethoven, and more darkly, how all our human prejudices and politics would get themselves mapped onto slices of time, with one period admiring, hating, and ignoring another, just as we do to each other now on account of race, religion, and gender. The narrative is a wonderful puzzle, as the reader puts together pieces of time to figure out just what is going on, just what is at stake. The Tourist is a challenging, intelligent, and satisfying read
— From
David's Diamonds
November 2016
Staff Reviews
---
Robert Dickinson's The Tourist is a terrifically smart time-travel novel. Dickinson gets everything right about time travel, were it real: the time tourists and the time tourism business, the music fans from the future shadowing Bach and Beethoven, and more darkly, how all our human prejudices and politics would get themselves mapped onto slices of time, with one period admiring, hating, and ignoring another, just as we do to each other now on account of race, religion, and gender. The narrative is a wonderful puzzle, as the reader puts together pieces of time to figure out just what is going on, just what is at stake. The Tourist is a challenging, intelligent, and satisfying read
— From David's Diamonds
Description
---
"Echoes of Bradbury and Orwell, in the service of a crackerjack conspiracy plot; a seductively intriguing work of speculative fiction." ---Kirkus
"A novel that's as fresh and compelling as it is high concept....Immensely enjoyable." ---SFX (four stars)

THE FUTURE HAS ALREADY HAPPENED.
It is expected to be an excursion like any other. There is nothing in the records to indicate that anything out of the ordinary will happen.
A bus will take them to the mall. They will have an hour or so to look around. Perhaps buy something, or try the food.
A minor traffic incident on the way back to the resort will provide some additional interest - but the tour rep has no reason to expect any trouble.
Until he notices that one of his party is missing.
Most disturbingly, she is a woman who, according to the records, did not go missing.
Now she is a woman whose disappearance could change the world.
With breathtaking plot twists that ricochet through time, this is the most ingenious conspiracy novel you will read this year.
— From
Fantastic Firsts Speculative Fiction
Description
---
"A rare treat: a time travel tale that brings something new to the subgenre....A wry social commentary and an uneasy tale of escalating paranoia." Guardian
THE FUTURE IS ALREADY WRITTEN.
"As fresh and compelling as it is high concept....Immensely enjoyable." SFX****
THE FUTURE HAS ALREADY HAPPENED.
"Welcome to the 21st Century. Please don't feed the natives....Echoes of Bradbury and Orwell, in the service of a crackerjack conspiracy plot; a seductively intriguing work of speculative fiction." Kirkus
TIME TRAVEL IS CONFUSING.
"Leaps of time, identity, and chronology create a dark, chillingly claustrophobic atmosphere." Publishers Weekly
PROCEED WITH CAUTION.
WHO WILL SOLVE THE PUZZLE OF THE TOURIST?
About the Author
---
Robert Dickinson lives in Brighton, England, and his life to date has been shockingly uneventful. His two previous novels were published by a small press. The Tourist is his third novel.
Praise For…
---
"As fresh and compelling as it is high concept ... Packed with dry humor, satirical swipes at the twenty-first century, and vivid characters....Immensely enjoyable."—SFX

"Welcome to the 21st Century....Echoes of Bradbury and Orwell, in the service of a crackerjack conspiracy plot; a seductively intriguing work of speculative fiction."—Kirkus

"The leaps of time, identity, and chronology create a dark, chillingly claustrophobic atmosphere."
—Publishers Weekly


"Dickinson has created a bleak future world and spins a plot most appropriate for readers who appreciate ambiguity."
—Booklist

"The story is slowly but surely teased out, intermittently dropping little details while advancing the plot at a breathtaking pace."—SciFiNow

"Riveting"—The Sunday Times