The Tourist (Paperback)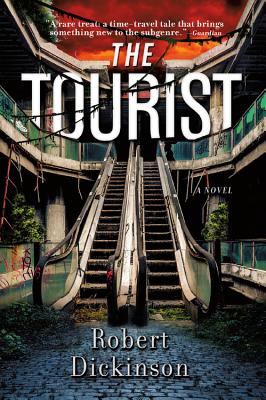 Description
---
"A rare treat: a time travel tale that brings something new to the subgenre....A wry social commentary and an uneasy tale of escalating paranoia." Guardian
THE FUTURE IS ALREADY WRITTEN.
"As fresh and compelling as it is high concept....Immensely enjoyable." SFX****
THE FUTURE HAS ALREADY HAPPENED.
"Welcome to the 21st Century. Please don't feed the natives....Echoes of Bradbury and Orwell, in the service of a crackerjack conspiracy plot; a seductively intriguing work of speculative fiction." Kirkus
TIME TRAVEL IS CONFUSING.
"Leaps of time, identity, and chronology create a dark, chillingly claustrophobic atmosphere." Publishers Weekly
PROCEED WITH CAUTION.
WHO WILL SOLVE THE PUZZLE OF THE TOURIST?
About the Author
---
Robert Dickinson lives in Brighton, England, and his life to date has been shockingly uneventful. His two previous novels were published by a small press. The Tourist is his third novel.
Praise For…
---
"As fresh and compelling as it is high concept ... Packed with dry humor, satirical swipes at the twenty-first century, and vivid characters....Immensely enjoyable."—SFX

"Welcome to the 21st Century....Echoes of Bradbury and Orwell, in the service of a crackerjack conspiracy plot; a seductively intriguing work of speculative fiction."—Kirkus

"The leaps of time, identity, and chronology create a dark, chillingly claustrophobic atmosphere."
—Publishers Weekly


"Dickinson has created a bleak future world and spins a plot most appropriate for readers who appreciate ambiguity."
—Booklist

"The story is slowly but surely teased out, intermittently dropping little details while advancing the plot at a breathtaking pace."—SciFiNow

"Riveting"—The Sunday Times