The Tethered Mage (Swords and Fire #1) (Paperback)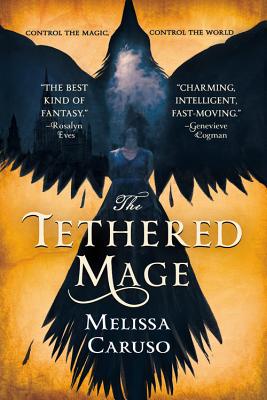 Staff Reviews
---
Melissa Caruso's The Tethered Mage is a historical fantasy, set in an alternative 17th-century Venice where the doge uses the powers of his magical subjects to rule a Mediterranean empire. The novel is also a charming romance, as heroine Princess Amalia fights tradition to realize her love for the commoner soldier Marcello. Above all, the novel is an intelligent and sophisticated exploration of the political dimension of magic, how the power intrinsic to magic draws people inexorably into relationships based on domination and terror, and subsumes magical individuals into the state's calculus of advantage and control. At once exciting, romantic, and sophisticated, The Tethered Mage is a fresh take on historical fantasy. Highly recommended!
— From
David's Diamonds
Description
---
SHORTLISTED FOR THE 2018 GEMMELL MORNINGSTAR AWARD.
The first book in a spellbinding fantasy trilogy for fans of The Queen of the Tearling and The Red Queen, where two young women -- a mage with coveted powers, and the scion of a powerful family -- are magically bound in service to the Empire.
Magic is scarce in the Raverran Empire, and those born with such powers are strictly controlled -- taken as children and conscripted into the Falcon army, to be used as weapons in times of war.
Zaira has lived her life on the streets to avoid this fate, hiding her mage mark and thieving to survive. But hers is a rare and dangerous magic, one that threatens the entire Empire.
Lady Amalia Cornaro was never meant to be a Falconer. Heiress and scholar, she was born into a treacherous world of political machinations.
But fate has bound the heir and the mage. And as war looms on the horizon, a single spark could turn their city into a pyre. The Tethered Mage is the first novel in Caruso's debut series, Swords and Fire.
The Swords and Fire seriesThe Tethered MageThe Defiant Heir
About the Author
---
Melissa Caruso is a graduate of Brown University and University of Massachusetts - Amherst. She lives in Massachusetts, where she occasionally swordfights in a ballgown.