Void Star: A Novel (Hardcover)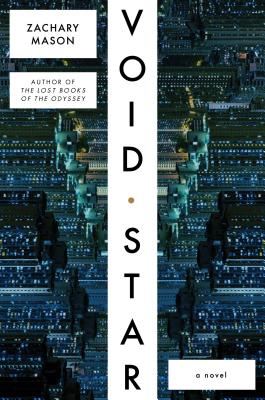 $27.00
Usually Ships in 1-5 Days
Staff Reviews
---
Zachary Mason's Void Star dazzles with its intricate tale of mentally-boosted people fighting a clandestine war with secret AIs across the battle-space of memory, perception, and cyberspace, in a world gone noir with political collapse, climate change, corporate warlords, and universal surveillance. Giving the story an almost hallucinatory intensity is Mason's marvelous, superb language, at once endlessly allusive, lush, and incantatory. Reading the book, you suddenly realize he is writing science fiction of the heart, where science and technology make possible new sensations, new feelings, new dreams. During reading you feel awe; afterwards, gratefulness. The best book I've read in six years of bookselling at MG. Void Star is one of the great science fiction novels of our time.
— From
David's Diamonds
Description
---
A riveting, beautifully written, fugue-like novel of AIs, memory, violence, and mortality
Not far in the future the seas have risen and the central latitudes are emptying, but it's still a good time to be rich in San Francisco, where weapons drones patrol the skies to keep out the multitudinous poor. Irina isn't rich, not quite, but she does have an artificial memory that gives her perfect recall and lets her act as a medium between her various employers and their AIs, which are complex to the point of opacity. It's a good gig, paying enough for the annual visits to the Mayo Clinic that keep her from aging.
Kern has no such access; he's one of the many refugees in the sprawling drone-built favelas on the city's periphery, where he lives like a monk, training relentlessly in martial arts, scraping by as a thief and an enforcer. Thales is from a different world entirely—the mathematically inclined scion of a Brazilian political clan, he's fled to L.A. after the attack that left him crippled and his father dead.
A ragged stranger accosts Thales and demands to know how much he can remember. Kern flees for his life after robbing the wrong mark. Irina finds a secret in the reflection of a laptop's screen in her employer's eyeglasses. None are safe as they're pushed together by subtle forces that stay just out of sight.
Vivid, tumultuous, and propulsive, Void Star is Zachary Mason's mind-bending follow-up to his bestselling debut, The Lost Books of the Odyssey.
About the Author
---
Zachary Mason is a computer scientist and the New York Times bestselling author of The Lost Books of the Odyssey and Void Star. He lives in California.
Praise For…
---
[Zach Mason] writes with a mathematical precision that often crystallizes into lines of clean, poetic beauty."
—Sam Sacks, The Wall Street Journal

"Elegant...written with the syntactic precision you might expect from a linguist, a computer scientist, a mathematician. Or a person who is all three."
—Charley Locke, Wired
"Zachary Mason creates a world in which the line between human and computer is completely erased, yet he still manages to make the reader feel for all the characters—both man and machine—equally. Add that to a highly addictive plot and an exploration of memory's impact on our identity, and you've got one of the most richly complex novels of the year."
—Chelsea Hassler, Newsweek
"Speculative fiction has long wrestled with . . . ethical quandaries, but rarely has it done so with the power of language and prescience found in Void Star. Mason's prose is prodigious in scope and exultant..."
—Hayden Robel, Zyzzyva
"Gorgeous . . . Reminiscent of the work of giants like Frank Herbert, Philip K. Dick, and William Gibson, Void Star is a towering, twisting, and oracular ziggurat. Mason carries on rich science fiction traditions while saturating readers in heady prose that they may not anticipate from this sort of novel. The prose is at once intoxicating, enchanting, and mournful."
—Paul Rowe, New England Review of Books
"Imaginative, intelligent vision of a future in which the machines we build take an unusual interest in us even as we seek to exploit them further . . . [Void Star is] a richly rewarding blend of noir thriller and sci-fi in the best tradition of Dick, Stephenson, and Delany."
—Kirkus (starred review)
"Mason's follow-up to The Lost Books of the Odyssey is a complex and spellbinding tale of a future where self-preservation, in every sense of the word, is a victory."
—Library Journal (starred review)
"Code becomes flesh in Zachary Mason's sentences. He shows us the near future of technological experience, where death becomes a 'stillness in memory,' and God is a pattern of numbers. This is the best and most beautiful book about computers since Neuromancer."
—Michael Clune, author of Gamelife: A Memoir

"Void Star is an extraordinary novel. The hallucinatory beauty of the prose is matched only by the book's velocity and mystery, and the story—of mortality, memory, and what it means to be human—holds all the force and power of mythology."
—Emily St. John Mandel, author of Station Eleven
"Zachary Mason's magisterial new novel is a passionate immersion in science fiction, sure to delight even the most hardcore devotees of Samuel R. Delany, China Miéville,and Philip K. Dick. The greatest speculative writing intoxicates and terrifies us in equal measure with the visions it offers, and in this Void Star is no exception. A dazzling book."
—John Wray, author of The Lost Time Accidents
"Readers who enjoy Cormac McCarthy and China Miéville but wished they had had more influence from Neal Stephenson might find this book is just what they're looking for."
—Dawn Kuczwara, Booklist