Two Girls Down: A Novel (Hardcover)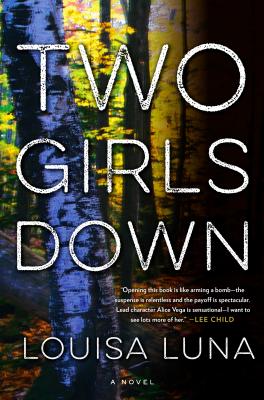 Staff Reviews
---
Luna ventures into adult suspense with this extremely engrossing story of two sisters who are abducted from their mother's car in a K-Mart parking lot in small town in Pennsylvania. The police department is at a minimal force and has no leads, which frustrates Jamie, the girl's mother, and angers Jamie's parents; however, her aunt Maggie has the foresight and means to hire private detective Alice Vega, who has a huge success rate in Central California for locating missing children. Arriving in Pennsylvania, Vega is shut out by the local police and hires Max Caplan, a disgraced former policeman from that force who is now a private detective. He still has contacts and favors owed him by his former colleagues. Together Vega and Caplan maneuver through the local police and begin to uncover the lies, misconceptions and secret relationships that have led to this hideous crime, while time is running out to find the girls alive. An intoxicating suspense novel.
— From
Bunny's Books
January 2018 Indie Next List
---
"At last, a book with girl in the title that is about actual girls. Kylie and Bailey, ages 8 and 10, disappear from a strip mall. Their mother is frantic and the police are making no progress. When the family hires Alice Vega, an out-of-state bounty hunter, to find the girls, she teams up with Max Caplan, a former cop turned private investigator, and they combine their skills to try to find the missing girls before it is too late. A suspenseful and all-too-real scenario that will drive readers to finish the story before doing anything else."
— Sharon K. Nagel, Boswell Book Company, Milwaukee, WI
Description
---
"I'm always looking for a good thriller, and this just was perfect."--Nancy Pearl, NPR's Morning Edition
"Opening this book is like arming a bomb--the suspense is relentless and the payoff is spectacular.  Lead character Alice Vega is sensational--I want to see lots more of her."--Lee Child
"Sensational." Wall Street Journal
"A must-read for fans of strong female protagonists.'--Booklist (starred review)

   As addictive, cinematic, and binge-worthy a narrative as The Wire and The Killing, Two Girls Down introduces Louisa Luna as a thriller writer of immense talent and verve.   
   When two young sisters disappear from a strip mall parking lot in a small Pennsylvania town, their devastated mother hires an enigmatic bounty hunter, Alice Vega, to help find the girls. Immediately shut out by a local police department already stretched thin by budget cuts and the growing OxyContin and meth epidemic, Vega enlists the help of a disgraced former cop, Max Caplan. Cap is a man trying to put the scandal of his past behind him and move on, but Vega needs his help to find the girls, and she will not be denied. 
   With little to go on, Vega and Cap will go to extraordinary lengths to untangle a dangerous web of lies, false leads, and complex relationships to find the girls before time runs out, and they are gone forever.
About the Author
---
Louisa Luna is the author of the novels Brave New Girl, Crooked, and Serious As A Heart Attack. She was born and raised in the city of San Francisco and lives in Brooklyn with her husband and daughter.
Praise For…
---
"Sensational...One of the book's great pleasures is seeing Caplan and Vega's initially testy entanglement develop into a true partnership. But there are many other aspects in Ms. Luna's story to savor as well: a host of sharply sketched characters, from spaced-out dopers to distraught parents and grandparents; action sequences startling in their sudden violence; and quick psychological revelations that pierce the heart."
--Wall Street Journal

"Opening this book is like arming a bomb--the suspense is relentless and the payoff is spectacular.  Lead character Alice Vega is sensational--I want to see lots more of her."
--Lee Child, #1 New York Times bestselling author of The Midnight Line

"I read thrillers when I'm revising.  This one is a beaut, not only suspenseful but with some real embedded truths about how hard it is to be a mother."
--Anna Quindlen, in Parade

"I'm always looking for a good thriller, and this just was perfect. It's exactly the kind of thriller that I most enjoy . . . You really want to spend time with these two main characters. It was one of those things where the plot was great and it was complex enough to keep me interested, but what I loved most was the way these two very, very different characters--complicated with complicated lives--interact."
--NPR's Morning Edition, "Librarian Nancy Pearl Picks 7 Books For Summer Reading"

"A real nail-biter...The brisk plot combines psychological suspense with solid action, while providing a realistic look at a family under siege, as it builds to a shocking finale."
--Publishers Weekly (starred)

"An outstanding neo-noir, introducing enigmatic bounty hunter Alive Vega, a perfect female incarnation of Jack Reacher...Vega springs to life in the hands of this immensely talented writer...This is a must-read for fans of strong female protagonists"
--Booklist (starred)

"Ripe for optioning…a winter title to watch."
--Hollywood Reporter

"From its haunting opening to the pulse-pounding final sequences, Two Girls Down delivers a gripping read. Alice Vega and Max Caplan are characters I'd follow anywhere, and Louisa Luna is a writer to watch. Highly recommended."
--Michael Koryta, New York Times bestselling author of Those Who Wish Me Dead

"This is such a terrific read. High stakes, relationship-driven, perfectly paced.  Two Girls Down has something else worth noting: three dimensional female characters. Alice Vega could give Jack Reacher a run for his money.  Maybe Louisa Luna should write all the thrillers."
--Chelsea Cain, New York Times bestselling author of Heartsick

"Louisa Luna is an incredibly talented writer with a bewitching gift for storytelling, and Two Girls Down fairly crackles with energy and suspense from the first page to the last.  I can't ever recall a time before now that I lost sleep as a result of reading a crime thriller. This one, I just could not put down."
--Donald Ray Pollock, author of The Devil All the Time & The Heavenly Table

"To the pantheon of unforgettable noir detectives, add Louisa Luna's bounty hunter Alice Vega and her partner, PI Max Caplan, one of the best and most original duos to grace crime fiction in many years. Two Girls Down is a breathlessly gripping journey into the dark heart of America: I couldn't put it down."
—Elizabeth Hand, author of Generation Loss and Hard Light

"Louisa Luna has written a knockout, read-it-in-one-sitting novel with Two Girls Down. Gripping, emotional, and tautly written, with a wonderful cast of memorable characters."
—Jeff Abbott, New York Times bestselling author of Adrenaline