Dragonfish (Paperback)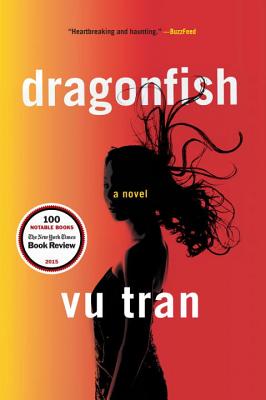 $15.95
Usually Ships in 1-5 Days
Staff Reviews
---
This noir page- turner is alive with history, the intrigue of Vegas, the pain of lost love, and much more. The story brings the Vietnam War era to life, and wraps it with such beautiful prose that you ache for the characters and their convoluted existence. Suzy, originally Hong, is missing; and her cop ex-husband is blackmailed into searching for her by her current husband, a violent Vietnamese gambler and smuggler who has a curious past with Hong. Tran flashes back to the saga of Hong's and her tiny daughter Mia's migration from Vietnam to LA in beautiful heartbreaking letters Suzy is now writing to her abandoned daughter. The contrast of violent, crazy, and tender emotions is wonderfully woven together by this debut author.
— From
Bunny's Books
Description
---
Robert, an Oakland cop, still can't let go of Suzy, the enigmatic Vietnamese wife who left him two years ago. Now she's disappeared from her new husband, Sonny, a violent Vietnamese smuggler and gambler who's blackmailing Robert into finding her for him. As he pursues her through the sleek and seamy gambling dens of Las Vegas, shadowed by Sonny's sadistic son, "Junior," and assisted by unexpected and reluctant allies, Robert learns more about his ex-wife than he ever did during their marriage. He finds himself chasing the ghosts of her past, one that reaches back to a refugee camp in Malaysia after the fall of Saigon, as his investigation soon uncovers the existence of an elusive packet of her secret letters to someone she left behind long ago. Although Robert starts illuminating the dark corners of Suzy's life, the legacy of her sins threatens to immolate them all.
Vu Tran has written a thrilling and cinematic work of sophisticated suspense and haunting lyricism, set in motion by characters who can neither trust each other nor trust themselves. This remarkable debut is a noir page-turner resonant with the lasting reverberations of lives lost and lives remade a generation ago.