Kill Fee (Hardcover)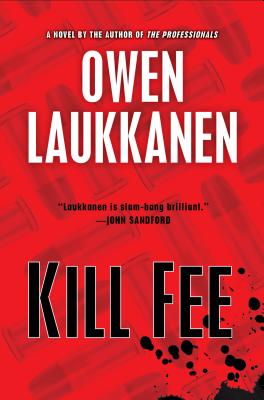 Staff Reviews
---
Mystery & Suspense
I never read Owen Laukkanen's first two novels in the Stevens and Windermere series, so I wasn't sure if starting off with book three would already put me at a disadvantage. I needn't have worried. There was sufficient backstory to catch me up to speed, although now I really want to pick up The Professionals and start the series from the beginning. State investigator Kirk Stevens and FBI agent Carla Windermere are likeable from the start, thanks to their quickfire banter and obvious chemistry. Then there's the roller coaster plot that leads Stevens and Windermere on a relentless chase to track down the mastermind behind a kill-for-hire website. This is a wild high-tech thriller with plenty of action and punch.
– Sarah
— From
Sarah Chen
Description
---
The new Stevens and Windermere novel from one of the most dazzlingly acclaimed new writers in crime fiction.
 
The billionaire picked a heck of a way to die.

On a beautiful Saturday in downtown Saint Paul, Minnesota, state investigator Kirk Stevens and his occasional colleague FBI special agent Carla Windermere witness the assassination of one of the state's wealthiest men. The shooter is a young man, utterly unremarkableexcept in his eyes. There is something very wrong in his eyes.

And it's only the beginning. The events of that sunny springtime day will lead Stevens and Windermere across the country, down countless blind alleys, and finally to a very flourishing twenty-first-century enterprise: a high-tech murder-for-hire social media website. But just who has the dead-eyed shooter targeted next . . . and who's choosing his victims? That's where things get complicated.
About the Author
---
Owen Laukkanen's first novel, "The Professionals," was nominated for multiple honors, including the Anthony Award, Barry Award, the "Spinetingler Magazine" Best Novel: New Voices Award, and the International Thriller Writers' Thriller Award for best first novel. A resident of Vancouver, he is now at work on a fourth book featuring Stevens and Windermere.
Praise For…
---
Praise for KILL FEE
 
"Laukkanen's fast-paced, no-frills style is brisk, blunt, and fueled entirely by adrenaline."—Marilyn Stasio, The New York Times Book Review

"Enthralling . . . Kill Fee works well as an in-depth police procedural and an insightful look at amorality and greed. Laukkanen employs the same strengths of brisk plotting and incisive character studies that he established in his first two novels."—Associated Press

"[Kill Fee is] further proof that Laukkanen is one of the best young thriller writers working today. His pace is relentless, his plots are satisfyingly intricate and his prose is cut-to-the-bone lean . . . Perhaps as importantly, his books boast social relevance. Like David Baldacci, a veteran of the thinking man's thriller genre, Laukkanen understands the value of tying an exhilarating adventure back to the pressing concerns of the real world."—Richmond Times-Dispatch

"Just two books in [The Professionals and Criminal Enterprise] and Laukkanen is a master at elevating stakes and keeping those prize pages turning. Book No. 3 in the Stevens & Windermere series, Kill Fee, is even better." —Sarah Weinman, National Post
 
"Blistering pace and a stomach-turning homicide-for-hire scheme . . . Laukkanen keeps readers engaged with a serpentine plot that writhes through high-tech and low-life corruption." —Publishers Weekly

"Pulse-pounding…you won't put this third Stevens and Windermere installment down unfinished."—Kirkus Reviews
 
Praise for CRIMINAL ENTERPRISE:
 
"[Criminal Enterprise is] one hell of a wild ride – full of corkscrews, cutbacks, blind curves, and barrel rolls. The pace is quick, the plot is intricate, and the stakes start out high and increase exponentially over the course of the tale."—Crimespree
 
"Laukkanen, one of the best thriller writers to emerge in the wake of the Great Recession, has a keen understanding of what readers expect in a crime thriller. His pace is relentless, and he shifts expertly between his characters' perspectives, short chapter by short chapter, as he hurls readers toward an inevitably explosive finale." ––Richmond Times-Dispatch
 
""Criminal Enterprise" showcases Laukkanen's original storytelling. We can't wait to find out which everyman-turned-criminal Carla and Kirk tangle with next."—South Florida Sun-Sentinel

"Fans of crime thrillers shouldn't miss this one or anything else with Laukkanen's name on the cover. The writing is so crisp, the pages almost want to turn themselves. He's a terrific storyteller."—Kirkus Reviews (starred review)

"Laukkanen as clearly avoided the sophomore slump, deftly alternating taut narratives and building toward a grand climax that's completely organic to the story.  Windermere, Stevens, and Tomlin are strikingly realistic characters sharing varying degrees of dissatisfaction with their lives, and readers will identify with their struggles to reconcile their own needs with their responsibilities to others."—Booklist (starred review)
 
"Criminal Enterprise is a bloody good thriller" ––Ft. Worth Star-Telegram
 
"Laukkanen keeps the tension high…this is a suspenseful ride."––Houston Chronicle
 
"Owen Laukkanen: Latest novel is Criminal Enterprise. Laukkanen's 2012 debut The Professionals was my favorite debut of the year and seems to have set a tone for his series—focusing on the impact of the economic downturn. While that might not seem to be the basis of an exciting thriller, Laukkanen has made it so. His are action-packed stories that also are contemporary cautionary tales. Laukkanen also gives a vivid look at amorality, entitlement and consequences."—Mystery Scene
 
 "If you've ever wanted to write a terrific crime novel, Criminal Enterprise could well be the blueprint." ––New York Journal of Books
 
"This high-voltage thriller practically deserves a warning label on its cover... the writing is so crisp you can almost hear it crunch between your teeth, and the action builds to a jaws-clenching finish."–– Read Me Deadly
 
"The Professionals was highly and rightly praised...Criminal Enterprise is even better. Laukkanen has a plot line built on the death of the American Dream." –– The Globe and Mail