Flame in the Mist (Hardcover)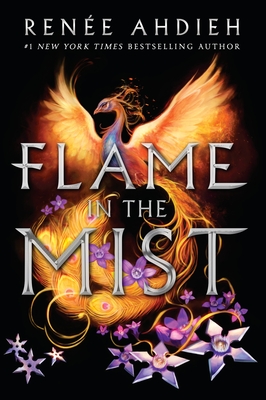 $17.99
Usually Ships in 1-5 Days
Staff Reviews
---
"Death follows indecision, like a twisted shadow. Fall forward. Keep moving. Even if you must pick yourself up first." Flame in the Mist is a stunning and intriguing mashup of Mulan and 47 Ronin. The story follows a young woman named Mariko as she struggles to find her place in society, often undermined by many of the male influences in her life. After narrowly escaping an ambush, she decides to create an alter ego, to join the clan that was sent to kill her. Mariko discovers secrets about herself, her family, and her world as she experiences a whole new aspect of life. She's strong, independent, and a relatable character that captivates readers from the very first page.
— From
Kaitlyn's Picks!
Description
---
From the #1 New York Times bestselling author of The Wrath and the Dawn, comes a sweeping, action-packed YA adventure set against the backdrop of Feudal Japan where Mulan meets Throne of Glass.
 
The daughter of a prominent samurai, Mariko has long known her place—she may be an accomplished alchemist, whose cunning rivals that of her brother Kenshin, but because she is not a boy, her future has always been out of her hands. At just seventeen years old, Mariko is promised to Minamoto Raiden, the son of the emperor's favorite consort—a political marriage that will elevate her family's standing. But en route to the imperial city of Inako, Mariko narrowly escapes a bloody ambush by a dangerous gang of bandits known as the Black Clan, who she learns has been hired to kill her before she reaches the palace.
     Dressed as a peasant boy, Mariko sets out to infiltrate the Black Clan and track down those responsible for the target on her back. Once she's within their ranks, though, Mariko finds for the first time she's appreciated for her intellect and abilities. She even finds herself falling in love—a love that will force her to question everything she's ever known about her family, her purpose, and her deepest desires.
About the Author
---
Renée Ahdieh is the author of the #1 New York Times bestselling The Wrath and the Dawn and The Rose and the Dagger. In her spare time, she likes to dance salsa and collect shoes. She is passionate about all kinds of curry, rescue dogs, and college basketball. The first few years of her life were spent in a high-rise in South Korea; consequently, Renée enjoys having her head in the clouds. She lives in Charlotte, North Carolina, with her husband and their tiny overlord of a dog.
Praise For…
---
Praise for Flame in the Mist:
New York Times Bestseller
A Spring 2017 Amazon Pick – Spring's Best Young Adult Fiction
A PW Best Summer Book of 2017

 
★ "[A]n elaborate fantasy set in feudal Japan . . . Ahdieh (The Wrath & the Dawn) is immensely skilled at crafting vibrant settings inhabited by sympathetic characters with rich pasts . . . readers will enthusiastically anticipate the next installment."—Publishers Weekly, starred review

"Ahdieh's first duology (begun with The Wrath and the Dawn, 2015) propelled her to the top of the charts, and this new series starter brings that same blend of history, magic, and sensuality that drew readers in the first place."—Booklist 

"This story of female empowerment will resonate with girls today. This novel has something for every reader to savor: a budding romance, invention of new weaponry, and detailed battle scenes."—School Library Connection


"This story . . . will undoubtedly enthrall readers."—Kirkus Reviews 

"Rich in magical realism and cultural nuance of feudal Japan, Ahdieh's series starter begins with a girl-power bang. . . . A wonderful choice for YA shelves, especially where lush fantasy is popular."—School Library Journal

"[A] fun feudal samurai drama. . . . an action-packed and well-paced young adult novel."—The Washington Post 

"Filled with strong female characters, action and adventure, and beautiful storytelling, Flame in the Mist offers a world you'll want to escape into for a long while."—BuzzFeed 

"Romance, action and magic intertwine in this novel likely to keep readers enthralled."—Deseret News

"This richly imagined, action-packed adventure, featuring a feisty heroine and set in feudal Japan, comes from the acclaimed author of The Wrath & The Dawn and The Rose & The Dagger. . . . Ahdieh is a superb craftsman, and this engaging tale of betrayal and revenge ends on a cliffhanger, leaving the reader eagerly awaiting the next book."—Buffalo News
 
"Rich world-building in feudal-era Japan and plenty of intrigue make this page-turning young-adult novel a winning foray into fantasy."—Austin American Statesman
 
"[With] Flame in the Mist, Ahdieh has gifted us a new series to obsess over. If you live for books that have lush worlds, swoony romance and non-stop action, you'll want to read this."—Paste Magazine
 
"Even in the long line of fictional females who pose as male to thwart patriarchal restrictions, Mariko stands out. . . . The novel's surprising, tumultuous ending leaves the reader eagerly anticipating a sequel, impatient to find out what iteration of herself Mariko will invent next."—Chicago Tribune

"Set to marry the emperor's son, Mariko is attacked by hired bandits en route to meet him. To uncover the truth behind the assassination attempt, Renée Ahdieh's heroine must infiltrate the assailants' gang —disguised as a man."—US Weekly
 
"From the best-selling author of The Wrath and the Dawn duology, comes a new adventure. Set in Feudal Japan, Mariko has long known that despite her talent and intelligence, her future lies in making an advantageous political marriage. Traveling to the capital city for her marriage, she narrowly escapes an assassination attempt. Determined to get to the bottom of the plot, she dresses as a boy and infiltrates the gang sent to kill her. If you liked Disney's Mulan, you'll like this."—The Newark Advocate
 
"Anyone who has read Renée Ahdieh's The Wrath and the Dawn duology (and if you haven't — get on it!) will be thrilled that she's releasing a new novel this year, called Flame in the Mist. Set in feudal Japan, this story follows a young woman named Mariko, who is the daughter of a samurai. On the way to be married in order to help her family's political standing, Mariko's group is attacked, and she poses as a boy to escape and infiltrate the clan of her enemies (attention: Mulan-lovers!)."—PopCrush
 
"Alchemy, samurai, and Renée Ahdieh. Need we say more?"—Culturess
 
"Beautifully written and masterfully plotted . . . Shades of Mulan and 47 Ronin frame the novel, but the fantasy elements and the vivid characters give the story its own distinct flavor . . . a definite must-read!"—RT Book Reviews

"As author Renée Ahdieh did with her debut, The Wrath & the Dawn, Flame in the Mist explores a young woman's power and strength to effect great change in a patriarchal society. And the realistic stories, fascinating culture and complex relationships of Ahdieh's fictional characters—explored in actual, historical settings—are completely enrapturing."—BookPage
 
"Consider us #blessed to have a new series from Renee Ahdieh, because Flame in the Mist has her signature lush and dangerous romantic adventure vibes we loved so much in The Wrath and the Dawn."—Bustle
 
"Swoony dudes, new worlds, and crazy high stakes . . . [Flame in the Mist is] the kind of book that'll have you staying up late and calling in sick, just so you can finish it in one sitting."—Brit + Co
 
"With Flame in the Mist, Renée Ahdieh delivers a vibrant, action-packed historical fantasy that unfurls in Feudal Japan . . . Ahdieh creates characters you long to learn more about. She's adept at building a world that feels enchanting, hypnotic, real and sensual. Every page shimmers with intrigue and desire."—USA Today Happy Ever After

"The story is full of palace intrigue, disguises, magic, and Mariko's search to find a place where she can be herself—not a bargaining chip, a daughter, a sister, or a prisoner. . . . Fans of Tamora Pierce and Kristin Cashore will enjoy this magical feudal tale."—VOYA 

Praise for The Wrath and the Dawn:
#1 New York Times Bestseller
#4 on the Summer 2015 Kids' Indie Next List!
An Amazon Best Book of the Year for 2015 – Young Adult
A New York Public Library Best Book for Teens for 2015 
A Seventeen Magazine Best Book of 2015
A YALSA 2016 Best Fiction for Young Adults Pick
 
"Lushly imagined and powerfully characterized, it's a potent page-turner of intrigue and romance."—Publishers Weekly 

"This book is a fairy tale, a mystery, and … promises to become a classic tale of its own."—VOYA

★ "Set against a backdrop of political intrigue and a simmering revolution, this isa carefully constructed narrative of uncertain loyalties, searing romance, and subtle magic in a harsh desert city."—Booklist, starred review

★ "The rich, Middle Eastern cultural context adds to the author's adept world building… a surefire hit with teens."—School Library Journal, starred review

★ "Renée Ahdieh's lush debut novel, The Wrath and the Dawn, is a suspenseful and beautiful reimagining of The Arabian Nights, with an edge."—Shelf Awareness, starred review 

"Dreamily romantic, deliciously angst-y, addictively thrilling."—Kirkus Reviews

"Sumptuous detail … satisfyingly steamy scenes, along with some angsty push and pull moments between the two for optimal romantic tension."—BCCB

"Don't be surprised if the pages melt away and you find yourself racing through warm, golden sands or drinking spiced wine in cool marble courtyards. This is an intoxicating gem of a story. You will fall in love, just as I did."—Marie Lu, New York Times bestselling author of the Legend series and The Young Elites

"In her absorbing debut, Renée Ahdieh spins a tale as mesmerizing as that of her heroine Shahrzad, filled with lush details and brimming with tension. The Wrath and the Dawn is truly an exceptional story, beautifully written."—Carrie Ryan, New York Times bestselling author of The Forest of Hands and Teeth

"Ahdieh weaves a world that is lush with detail. You will want to hear, taste, and touch everything. But it's not just the world that is vividly alive. The characters are fascinating too: I loved the friendships, romance, and shifts in feeling. A beautifully written book, The Wrath and the Dawn is a story I could not put down."—Marie Rutkoski, author of The Winner's Trilogy
 
Praise for The Rose and the Dagger:
#1 New York Times Bestseller

★ "Beautiful, lyrical writing combines with a cohesive plot, richly drawn backdrop, and just the right mix of action and romance to create an undeniable new classic."—School Library Journal, starred review 

"Above all there is the shattering, triumphant catharsis of love… In a story about stories, love is 'the power to speak without words.' Thrillingly full of feeling."—Kirkus Reviews 

"Fiery romance, a spirited heroine, shifting loyalties… With more than a few heartrending twists and turns."—Booklist 

"[Ahdieh's] prose remains lush and evocative, ideal for sand-swept landscapes and racing hearts."—VOYA