The Forgotten Girls (A Stevens and Windermere Novel #6) (Hardcover)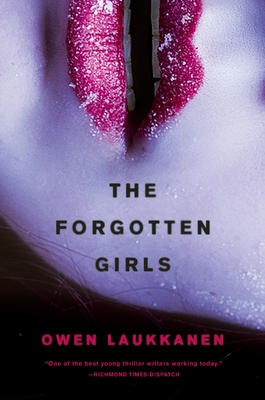 $27.00
Usually Ships in 1-5 Days
Staff Reviews
---
Reading a Windermere and Stevens book is like returning to old friends. This sixth entry in Laukkanen's series featuring the team from the FBI-Bureau of Criminal Apprehension Violent Crimes Task Force doesn't disappoint and could be read as a standalone too. When Stevens and Windermere find photos on a cell phone that suggest the work of a serial killer, they uncover the story of a "ghost rider" who haunts the High Line train line in the Rocky Mountains. The victims are runaways, prostitutes, and drug addicts so few take notice. The investigation takes the team to the bleak landscape of northern Montana and the Pacific Northwest in the dead of winter. The POV shifts from the two agents to the killer as well as my favorite, Mila Scott, a train hopper who wants to avenge her friend's death. The savagery of the harsh winter setting really heightens the tension in this action-packed thriller.
— From
Sarah Chen
Description
---
They are the victims no one has ever cared about, until now. Agents Stevens and Windermere return in the blistering new crime novel from the fast-rising, multi-award-nominated suspense star.
 
She was a forgotten girl, a runaway found murdered on the High Line train through the northern Rocky Mountains and, with little local interest, put into a dead file. But she was not alone. When Kirk Stevens and Carla Windermere of the joint FBI-BCA violent crime force stumble upon the case, they discover a horror far greater than anyone expected—a string of murders on the High Line, all of them young women drifters whom no one would notice.
            But someone has noticed now. Through the bleak midwinter and a frontier land of forbidding geography, Stevens and Windermere follow a frustratingly light trail of clues—and where it ends, even they will be shocked.
About the Author
---
Owen Laukkanen was born in Vancouver. After graduating from university in 2006, he answered an ad on Craigslist for a summer job at the World Series of Poker in Las Vegas as a "poker tournament reporter" for a poker website. At the end of the summer, they offered him a full-time job, and for the next three years, he traveled around the world, reporting from the most luxurious casinos of Monaco and Macau and Australia to the sketchiest card rooms of California and Atlantic City. In 2009, having seen his fill, he quit to concentrate on fiction.

His previous Stevens and Windermere novels are The Professionals, Criminal Enterprise, Kill Fee, The Stolen Ones, and The Watcher in the Wall. The Professionals was nominated for the Barry and International Thriller Writers awards for best first novel, as well as the Spinetingler Magazine Best Novel: New Voices Award. Criminal Enterprise was nominated for the ITW Award for best novel, and The Stolen Ones for the Barry Award.
Praise For…
---
Praise for The Forgotten Girls
 
"An eerie, suspenseful hunt." — Booklist
 
 "Laukkanen combines great storytelling with deep compassion for the underdog." — Kirkus Reviews

"Laukkanen is at his best in describing Mila's grueling travels through the frigid Northwest in pursuit of the killer....The interplay between Stevens and Windermere as they race to save Mila are expertly handled." — Publishers Weekly

"Yet another example of why Owen Laukkanen has been on my must-read list since the release of his debut novel." —Bookreporter.com

Praise for The Watcher in the Wall

"Owen Laukkanen knows which crimes and misdemeanors are too monstrous to be ignored." —The New York Times Book Review

"A gut-wrenching tale filled with empathy. This may be the best yet in a first-rate series. FBI agent Carla Windermere is such a wonderful series character. Either she or the perp is going down, and it damned well won't be her." —Kirkus Reviews (starred review)

"Incomparable pacing. This is a guaranteed lost weekend for Laukkanen's fans and for anyone who's seeking a Lee Child–like adrenaline rush." —Booklist

"Laukkanen's fast-paced prose and short chapters pull readers along on a cross-country pursuit . . . It's a true page-turner up to the final act, which quickly escalates into a fiery exchange of gunfire." —BookPage

"The chemistry between the two agents feels authentic . . . and Laukkanen propels the reader through to an exciting and satisfying conclusion." —National Post

"If you have not yet read Owen Laukkanen and are a fan of thrillers, then you are just missing out completely on one of the best authors in the genre. Laukkanen is a gifted writer who delivers not just a thriller, but he also gives us strong, realistic characters (especially his female characters) who make mistakes, but they always keep moving forward, especially when they decide not to be the victim anymore." —Lynn Riehl, Nicola's Books, Ann Arbor, Michigan

"Don't expect the hair on the back of your neck to relax any time soon after you finish The Watcher in the Wall. Laukkanen is the real deal." —Bookreporter.com

"The author's experiences give this novel psychological depth and an urgency that drives the book and its readers to a breathless conclusion." —Milwaukee Journal-Sentinel