The Reader (Sea of Ink and Gold #1) (Hardcover)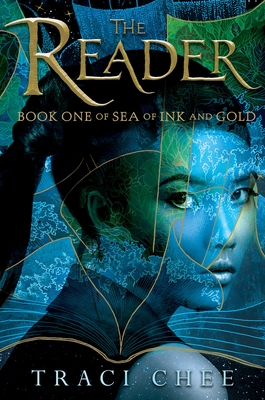 $19.99
Usually Ships in 1-5 Days
Staff Reviews
---
Assassins, thieves, and pirates fill the pages of Traci Chee's The Reader. In this world where reading and writing is forbidden, stories are told through tales and song. The book itself is told through tales and stories in alternating point-of-views, and details are slowly revealed about this landscape filled with hidden magic and danger around each corner. The Reader is simply fantasy with mystery and enigma; a puzzle you will need to solve. And as you are reading, you will become desperate for answers. Here is a book that is voracious and demands attention. In the midst of secret societies, unspoken rules, and relationships between master and apprentice, Chee will dazzle you with adventure and a diverse and mesmerizing cast of characters. Above all else, Chee's words will lure you into her intricate world.
-Guest reviewer Michelle
Description
---
Instant New York Times Bestseller

A stunning debut set in a world where reading is unheard-of, perfect for fans of Inkheart and Shadow and Bone

Sefia knows what it means to survive. After her father is brutally murdered, she flees into the wilderness with her aunt Nin, who teaches her to hunt, track, and steal. But when Nin is kidnapped, leaving Sefia completely alone, none of her survival skills can help her discover where Nin's been taken, or if she's even alive. The only clue to both her aunt's disappearance and her father's murder is the odd rectangular object her father left behind, an object she comes to realize is a book—a marvelous item unheard of in her otherwise illiterate society. With the help of this book, and the aid of a mysterious stranger with dark secrets of his own, Sefia sets out to rescue her aunt and find out what really happened the day her father was killed—and punish the people responsible.

With overlapping stories of swashbuckling pirates and merciless assassins, The Reader is a brilliantly told adventure from an extraordinary new talent.
About the Author
---
Traci Chee is an all-around word geek, she loves book arts and art books, poetry and paper crafts. She studied literature and creative writing at the University of California, Santa Cruz, and earned a master of arts degree from San Francisco State University. Traci grew up in a small town with more cows than people, and now feels most at home in the mountains, scaling switchbacks and happening upon hidden highland lakes. She lives in California with her fast-fast dog. The Reader is her YA debut.
Praise For…
---
Praise for The Reader:

An ALA Top Ten Best Fiction Pick – 2017
A School Library Journal Best Book of the Year – 2016
Finalist for the 2016 Kirkus Prize
A Kirkus Best Book of the Year – 2016
An NPR Best Book of the Year – 2016
A Buzzfeed Best YA Book of the Year – 2016
A Bustle Best YA Book of the Year – 2016
Minnesota Public Radio Best YA Book of the Year – 2016
A Barnes & Noble Best Book of the Year – 2016
A 2016 Nerdy Book Club Award Winner
An ABA Indies Choice Honor Book – 2017


"I was spellbound from the first page. An utterly transportive tale of swashbucklers and sharpshooters, masterfully written. Traci Chee has penned a beautiful novel about the power of story, complete with a fantastic cast of characters and an expertly rendered fantasy landscape. This is a book you will not soon forget."—Renée Ahdieh, #1 New York Times bestselling author of The Wrath and the Dawn


★ "Deftly rendered in beautiful prose, narrated through three shifting time lines woven into an interconnected history of duty, honor, and magic. . . . This is a must-have for all those who value a good read with genuine character growth, mystery, unique world-building, adventure, unyielding bonds of loyalty, and pirates. . . . A fresh, diverse fantasy; highly recommended for fans of Cornelia Funke's Inkheart and female-powered adventures."—School Library Journal, starred review


★ "Commanding storytelling and vivid details, particularly of the magical process of reading, bring the story to life… the first of what promises to be an enchanting series."—Kirkus Reviews, starred review


★ "Chee's debut is an intricate, multilayered reading experience… An exploration of self-determination and the magic of the written word, Sefia's story is an absorbing introduction to the Sea of Ink and Gold series."—Publishers Weekly, starred review


★ "With evocative language, fascinating world building, multifaceted characters, and a compelling plot, this is a series fantasy lovers will want to sink their teeth into."—Booklist, starred review


"Most world-building shies away from tackling the question of literacy within fantasy cultures, but here it serves as the beating meta-heart."—NPR

"Those looking for complex fantasy will enjoy and look for the next installment."—School Library Connection