Wonder Woman: Warbringer (DC Icons Series) (Hardcover)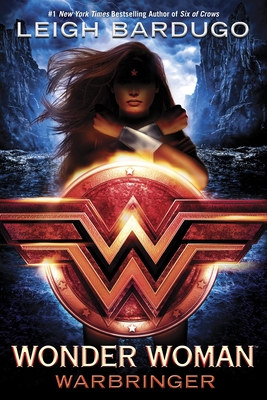 Staff Reviews
---
Wonder Woman is everything you would expect from this iconic character and Leigh Bardugo, for it's an action-packed mythological adventure following Diana's progression to becoming an Amazonian. She is a strong, complex, and diligent character who navigates Themyscira and the World of Man with some unlikely companions. Our Warbringer, Alia, has a great character arc as she joins Diana on this adventure to change not only her destiny, but the world around her.
Watch my video review here: https://www.youtube.com/watch?v=3lnyrf8mwZU
— From
Kaitlyn's Picks!
Warbringer ably sits in the sweet spot of the Venn diagram between established fans of the tales of Diana, Amazon Princess of Themyscria, and those who may not have experienced her stories beyond her role in the biggest box office smash of summer 2017. Teenage Diana is struggling to define herself on the mystical island, inhabited by warrior women of all cultures, transported there after their deaths in battle. Diana's rescue of contemporary teen Alia is a literally earth-shaking violation of the island's laws – she is advised by the Oracle to let Alia, a descendant of Helen of Troy, first of the haptandra, the Warbringers, die, in order to reduce world-wide strife. Diana defies the Oracle and leaves the island with Alia, determined to try to put an end to the curse of her lineage. This is a great story of female friendships, and difficult choices. -- Maryelizabeth
— From
Holiday Meet & Greet with Leigh Bardugo
Description
---
The highly anticipated DC Icons story of the world's greatest super hero: WONDER WOMAN by the # 1 New York Times bestselling author LEIGH BARDUGO.

AN INSTANT NEW YORK TIMES BESTSELLER

"You'll enjoy this book whether you're a fan of Wonder Woman comics, the Wonder Woman movie, Leigh Bardugo, or just YA lit in general." —Hypable

She will become one of the world's greatest heroes: WONDER WOMAN. But first she is Diana, Princess of the Amazons. And her fight is just beginning. . . . 
Diana longs to prove herself to her legendary warrior sisters. But when the opportunity finally comes, she throws away her chance at glory and breaks Amazon law—risking exile—to save a mere mortal. Even worse, Alia Keralis is no ordinary girl and with this single brave act, Diana may have doomed the world.
 
Alia just wanted to escape her overprotective brother with a semester at sea. She doesn't know she is being hunted. When a bomb detonates aboard her ship, Alia is rescued by a mysterious girl of extraordinary strength and forced to confront a horrible truth: Alia is a Warbringer—a direct descendant of the infamous Helen of Troy, fated to bring about an age of bloodshed and misery.
 
Together, Diana and Alia will face an army of enemies—mortal and divine—determined to either destroy or possess the Warbringer. If they have any hope of saving both their worlds, they will have to stand side by side against the tide of war.

"Feminism is the invisible jet powering this literary revamp of the Amazon princess." —The New York Times Book Review

"Warning: This novel about the young super hero crossing paths with a seemingly ordinary—but seriously powerful—girl may result in multiple fist pumps." —Seventeen

Don't miss the rest of the DC Icons series! Read them in any order you choose:
• Batman: Nightwalker by Marie Lu
• Catwoman: Soulstealer by Sarah J. Maas
• Superman: Dawnbreaker by Matt de la Peña
About the Author
---
LEIGH BARDUGO is the #1 New York Times bestselling and USA Today bestselling author of Six of Crows, Crooked Kingdom, and the Shadow and Bone Trilogy. Visit her online at leighbardugo.com and follow her on Twitter at @LBardugo. She is the first author in the DC Icons Series, where the DC Comics super hero icons are written by megastar young adult authors. The series also includes Batman: Nightwalker by Marie Lu, Catwoman: Soulstealer by Sarah J. Maas, and Superman: Dawnbreaker by Matt de la Peña.
Praise For…
---
A Boston Globe Best of the Year Book
A CCBC Choices 2018 Best of the Year Selection
2018 YALSA Teens' Top Ten Nominee

"Cinematic battles and a race against time keep the excitement high, but the focus on girls looking out for each other is what makes this tie-in shine."
—Kirkus Reviews, STARRED REVIEW

"All readers will definitely be delighted by Bardugo's cinematic delivery and long for more stories about this epic, ass-kicking heroine."
—VOYA, STARRED REVIEW

"A hero's journey times two. Alia taps into her own bravery and Diana learns about sexism, racism and something the Amazons have always dismissed: the courage, resilience and ingenuity of mere mortals."
―The New York Times Book Review

"Bardugo breathes zippy new life into the story with a twisty plot, whip-smart characters, and her trademark masterful writing."
—Booklist

"Wonder Woman is the epitome of a kick-butt heroine, and Bardugo does her justice with aplomb."
—The Bulletin

"Bardugo's Wonder Woman: Warbringer not only synthesizes a coherent origin and mission statement for Diana, but also makes the Amazon princess feel so fresh that she could have been created yesterday. . . . One of the best Wonder Woman stories ever."
—Tor.com


"Warbringer is straight-up dazzling, every sentence waking up your senses with a 'Yeah, that's right, this is BRAND-NEW, SUCKAS!' punch."
—LIBBA BRAY, New York Times bestselling author of The Diviners