Wink Poppy Midnight (CD-Audio)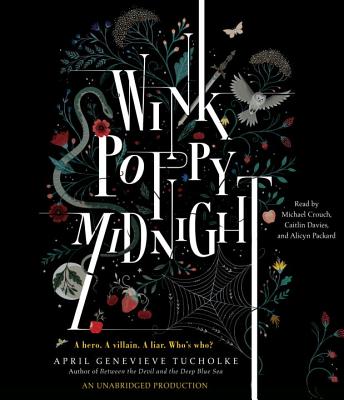 $38.50
Usually Ships in 1-5 Days
Staff Reviews
---
Midnight is a boy trying to start a new life. Wink is the wild, unpredictable bright eyed girl who is his new neighbor. And Poppy is the beautiful bully who always gets her way. This is their story. Brief chapters in each of their perspectives make up this tumultuous, twisted story of deceit, love, and jealousy. Tucholke's ghostlike writing borders on the gothic and its twists and turns leave the characters and readers alike guessing who is telling the truth. The book moves quickly and yet lingers in the best way possible, leaving you to question what—and who—is real. Ethereal, strangely timeless, and haunting, this book stays with you long after you turn its last page. 
— Kelly Orazi
Description
---
The intrigue of The Raven Boys and the "supernatural or not" question of The Unbecoming of Mara Dyer coalesce in this young adult mystery, where nothing is quite as it seems, no one is quite who you think, and everything can change on a dime.

Every story needs a hero.
Every story needs a villain.
Every story needs a secret.

Wink is the odd, mysterious neighbor girl, wild red hair and freckles. Poppy is the blond bully and the beautiful, manipulative high school queen bee. Midnight is the sweet, uncertain boy caught between them. Wink. Poppy. Midnight. Two girls. One boy. Three voices that burst onto the page in short, sharp, bewitching chapters, and spiral swiftly and inexorably toward something terrible or tricky or tremendous.

What really happened?
Someone knows.
Someone is lying.

For fans of Holly Black, We Were Liars, and The Virgin Suicides, this mysterious tale full of intrigue, dread, beauty, and a whiff of something strange will leave you utterly entranced.

Read by Michael Crouch, Caitlin Davies, and Alicyn Packard.
About the Author
---
April Genevieve Tucholke is the author of Between the Devil and the Deep Blue Sea and Between the Spark and the Burn and curated the horror/thriller anthology Slasher Girls & Monster Boys. April has lived in many places around the world and currently resides in Oregon with her husband.