The Wanderers (Hardcover)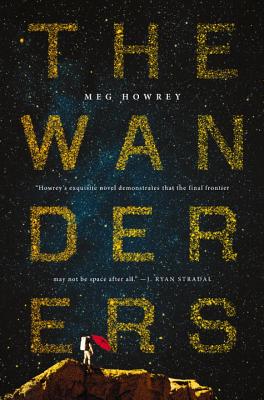 Staff Reviews
---
In the publishing world where so many new books are compared to existing bestsellers to explain their merits, it is refreshing to read something that is new and different. In the not-too-distant future, private enterprise has seriously moved into the space exploration. The Wanderers of this title have been selected for their experience and their personality profiles to be the first astronauts to visit Mars. Before leaving for Mars, they are hired to live in a simulation that mirrors their future trip. It is somewhat shorter than the actual expedition, but contains the same time frame for traveling to, and returning from, Mars. The only difference is that that they will stay on Mars for one month during this simulation when the actual trip will consist of a one and a half year stay.
What is unique about this book is that it is less about the expedition itself and more about the personalities and personal lives of Helen Kane, Sergei Kuznetsov, and Yoshihiro Tanaka … and some of their family members. In this way, it is more of an SF psychological thriller than a space adventure, and in the end, it is about their personal journey and transformation.
— From
Terry's Traffic Light Delights
Description
---
A brilliantly inventive novel about three astronauts training for the first-ever mission to Mars, an experience that will push the boundary between real and unreal, test their relationships, and leave each of them--and their families--changed forever.

"A transcendent, cross-cultural, and cross planetary journey into the mysteries of space and self....Howrey's expansive vision left me awestruck."--Ruth Ozeki "Howrey's exquisite novel demonstrates that the final frontier may not be space after all."--J. Ryan Stradal In an age of space exploration, we search to find ourselves.

In four years, aerospace giant Prime Space will put the first humans on Mars. Helen Kane, Yoshihiro Tanaka, and Sergei Kuznetsov must prove they're the crew for the historic voyage by spending seventeen months in the most realistic simulation ever created. Constantly observed by Prime Space's team of "Obbers," Helen, Yoshi, and Sergei must appear ever in control. But as their surreal pantomime progresses, each soon realizes that the complications of inner space are no less fraught than those of outer space. The borders between what is real and unreal begin to blur, and each astronaut is forced to confront demons past and present, even as they struggle to navigate their increasingly claustrophobic quarters--and each other. Astonishingly imaginative, tenderly comedic, and unerringly wise, The Wanderers explores the differences between those who go and those who stay, telling a story about the desire behind all exploration: the longing for discovery and the great search to understand the human heart.
About the Author
---
Meg Howrey is a former dancer who performed with The Joffrey, Eglevsky Ballet, and City Ballet of Los Angeles. She is the author of two previous novels, Blind Sight and The Cranes Dance, and the coauthor of the bestselling novels City of Dark Magic, and City of Lost Dreams, published under the pen name Magnus Flyte. Her non-fiction has appeared in Vogue and The Los Angeles Review of Books. She currently lives in Los Angeles.