The Space Between the Stars (Paperback)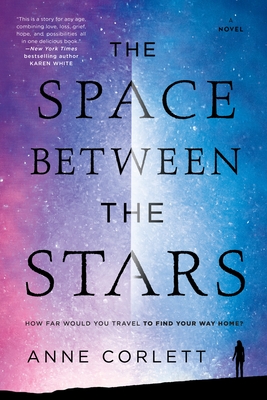 Staff Reviews
---
Debut novelist Corlett makes the most of the correlations between physical distances and emotional distances in her tale of the choices made by the tiny tiny remnants of the human species (0.001 percent survival rate) following an interplanetary plague. While Jamie Allenby sought a job on a sparsely-populated frontier planet to create space to recover from a difficult romantic relationship and miscarriage, she is still pleased to discover she is not the sole survivor on her planet. Compelled by a promise to her ex, Jamie embarks on a journey back to Earth, discovering truths both about herself and about the origins of the plague in the process. A thoughtful examination about the dangers of getting what one wishes for.
— Maryelizabeth
Description
---
A Recommended Summer Read from The Verge and io9
A Recommended June Read from Hello Giggles and Tor.com

When the world ends, where will you go?

In a breathtakingly vivid and emotionally gripping debut novel, one woman must confront the emptiness in the universe—and in her own heart—when a devastating virus reduces most of humanity to dust and memories.
 
All Jamie Allenby ever wanted was space. Even though she wasn't forced to emigrate from Earth, she willingly left the overpopulated, claustrophobic planet. And when a long relationship devolved into silence and suffocating sadness, she found work on a frontier world on the edges of civilization. Then the virus hit...
 
Now Jamie finds herself dreadfully alone, with all that's left of the dead. Until a garbled message from Earth gives her hope that someone from her past might still be alive.
 
Soon Jamie finds other survivors, and their ragtag group will travel through the vast reaches of space, drawn to the promise of a new beginning on Earth. But their dream will pit them against those desperately clinging to the old ways. And Jamie's own journey home will help her close the distance between who she has become and who she is meant to be...
About the Author
---
Anne Corlett is a criminal lawyer by profession and has recently completed an M.A. in creative writing at Bath Spa University. Her work has been published in magazines and anthologies, and her short fiction has won, placed, or been short-listed in national and international awards. The Space Between the Stars is her first novel.


From the Hardcover edition.
Praise For…
---
"With its unique plot and luminous prose, it's hard to believe that The Space Between the Stars is a debut novel. Anne Corlett understands the complexities and frailties of the human heart and captures it brilliantly on the page. Don't let the setting fool you—this is a story for any age, combining love, loss, grief, hope, and possibilities all in one delicious book. Definitely one for my keeper shelf."—Karen White, New York Times bestselling author of The Night the Lights Went Out
 
"A refreshingly intimate, hopeful take on the post-apocalyptic genre...reminds me of Firefly."—Den of Geek
 
"Corlett's prose lures you in...She punctuates her characters' conversations on human nature with action scenes that can make a reader turn pages more quickly after lingering on those conversations."—Culturess
 
"Strikingly written, with very human characters and a deep concern with human frailty...an excellent debut."—Tor.com
 
"[A] fast-moving and gripping 'end of the worlds' tale focused on the efforts of flawed survivors to ensure the end is not the end of humanity."—Jack Campbell, New York Times bestselling author of Ascendant
 
"Corlett offers a thoughtful examination of how individuals find meaning and fulfillment in the face of an apocalyptic event then wraps up with a thrilleresque ending."—Booklist
 
"Thought-provoking...The world-building is thoughtful, the prose is beautiful and the quirks of the characters are well crafted."—RT Book Reviews
 
"Anne Corlett has taken the themes of apocalypse, people attempting to create Utopia but unleashing Armageddon, population engineering and breeding programs, and put her particular stamp on the familiar. The Space Between the Stars is a sci-fi story laced with homey details like e-readers and jigsaw puzzles—there are no esoteric descriptions of warp drives or biodomes or aliens. But there is adventure, there is romance, there is self-discovery."—Shelf Awareness
 
"Anne Corlett is a writer with huge potential, and I'm looking forward to her future works."—Claire North, author of The First Fifteen Lives of Harry August
 
"An original thinker and a very, very effective writer."—Fay Weldon, author of Before the War