Blackwing (Raven's Mark #1) (Paperback)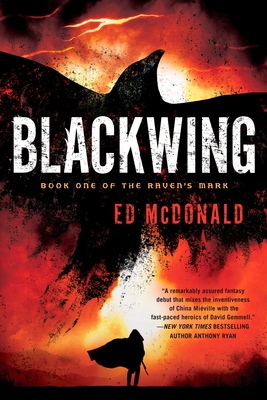 Staff Reviews
---
If you like your fantasy dark, with gritty, ruined characters fighting hopeless odds, in a world of endless war, with vast landscapes blighted by destruction, and the characters' inner landscapes blackened to match, why, then, Ed McDonald's Blackwing is just the novel for you. Captain Ryhalt Galharrow and his band of bounty hunters are caught in a war between staggering, incomprehensible powers: the Deep Kings for the dark side, the Nameless for the light. Forced to mount a desperate defense of their city against the Deep Kings' innumerable and imaginatively evil hordes, Ryan & Co. fight on, grimly, for each other, for brief remembered love, and if to die, then at least to die fighting. What a book. Not for the faint-hearted. Highly recommended!
— From
David's Diamonds
Description
---
"A remarkably assured fantasy debut that mixes of the inventiveness of China Miéville with the fast paced heroics of David Gemmell."—Anthony Ryan, New York Times bestselling author of The Legion of Flame

Set on a postapocalyptic frontier, Blackwing is a gritty fantasy debut about a man's desperate battle to survive his own dark destiny...

Hope, reason, humanity: the Misery breaks them all.
 
Under its cracked and wailing sky, the Misery is a vast and blighted expanse, the arcane remnant of a devastating war with the immortals known as the Deep Kings. The war ended nearly a century ago, and the enemy is kept at bay only by the existence of the Engine, a terrible weapon that protects the Misery's border. Across the corrupted no-man's-land teeming with twisted magic and malevolent wraiths, the Deep Kings and their armies bide their time. Watching. Waiting.
 
Bounty hunter Ryhalt Galharrow has breathed Misery dust for twenty bitter years. When he's ordered to locate a masked noblewoman at a frontier outpost, he finds himself caught in the middle of an attack by the Deep Kings, one that signifies they may no longer fear the Engine. Only a formidable show of power from the very woman he is seeking, Lady Ezabeth Tanza, repels the assault.
 
Ezabeth is a shadow from Galharrow's grim past, and together they stumble onto a web of conspiracy that threatens to end the fragile peace the Engine has provided. Galharrow is not ready for the truth about the blood he's spilled or the gods he's supposed to serve…
About the Author
---
Ed McDonald has spent many years moving between different professions, cities and countries, but the only thing all of them have in common is that they have allowed him the time to write. He currently lives with his wife in London, a city that provides him with constant inspiration, where he works as a university lecturer. When he's not grading essays or wrangling with misbehaving plotlines, he can usually be found fencing with longswords, rapiers or whatever else comes to hand.
Praise For…
---
Praise for Blackwing

"Blackwing quickly gained the rare distinction of being one of those books that felt as if it had been written especially for me...Ed McDonald handles the action with a deft hand and has created a compelling central character who remains likeable despite a lengthy list of flaws."—Anthony Ryan, New York Times bestselling author of The Legion of Flame

"Original world-building and unforgettable characters make Blackwing a dark, powerful debut."—Brian Staveley, author of Skullsworn

"Blackwing is a bloody, gritty fantasy novel that manages not to sacrifice its heart.  I love the world, which feel strange and lived-in, and the strength of the voice is fantastic. Fans of Glen Cook's The Black Company or Joe Abercrombie's The First Law series will be very happy with this one."—Django Wexler, author of The Guns of Empire
 
"Blackwing is potent, gritty, bloody, and splendid."—Faith Hunter, New York Times bestselling author of Cold Reign
 
"Vivid characters, visceral combat and a twist of an ending that I really should have seen coming and didn't...Suffice to say, I bloody loved it and I am officially an Ed McDonald fan. He deserves to go far."—Elspeth Cooper, author of The Songs of Earth

"Gritty and immersive, Blackwing is a hugely enjoyable tale."—Edward Cox, author of The Watcher of Dead Time