Alice (The Chronicles of Alice) (Paperback)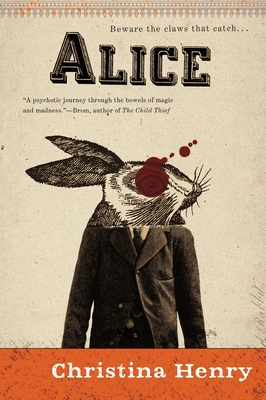 Staff Reviews
---
A dark visit to Wonderland, opening with an adult Alice imprisoned in--and then escaping--a madhouse. She can't remember what happened to her in Wonderland but she's haunted by the few memories she has of it. As she goes through the Old City we see all our favorite characters grimly reimagined. Dark and engaging, I loved this so much that I read in it in a single day!
--Kelly
— From
Kelly
Description
---
From the national bestselling author of The Mermaid comes a mind-bending novel inspired by the twisted and wondrous works of Lewis Carroll...

In a warren of crumbling buildings and desperate people called the Old City, there stands a hospital with cinderblock walls which echo the screams of the poor souls inside.

In the hospital, there is a woman. Her hair, once blond, hangs in tangles down her back. She doesn't remember why she's in such a terrible place. Just a tea party long ago, and long ears, and blood...

Then, one night, a fire at the hospital gives the woman a chance to escape, tumbling out of the hole that imprisoned her, leaving her free to uncover the truth about what happened to her all those years ago.

Only something else has escaped with her. Something dark. Something powerful. And to find the truth, she will have to track this beast to the very heart of the Old City, where the rabbit waits for his Alice.
About the Author
---
Christina Henry is the author of The Mermaid, Lost Boy, Alice, Red Queen, and the national bestselling Black Wings series featuring Agent of Death Madeline Black and her popcorn-loving gargoyle, Beezle.
Praise For…
---
Praise for Alice

"Careful, this white rabbit will lead you on a psychotic journey through the bowels of magic and madness. I, for one, thoroughly enjoyed the ride."—Brom, author of The Child Thief
 
"I loved falling down the rabbit hole with this dark, gritty tale. A unique spin on a classic and one wild ride!"—Gena Showalter, New York Times bestselling author of Alice in Zombieland
 
"A dark, delightfully disturbing fall down a rabbit hole of madness and mystery. This is not your mamma's Alice…If you're looking for a book that will make you feel like you were just on a bender with the blue caterpillar, I highly recommend Alice."—R.S. Belcher, author of Nightwise

"Christina Henry's Alice takes the darker elements of Lewis Carroll's original, amplifies Tim Burton's cinematic reimagining of the story, and adds a layer of grotesquery from her own alarmingly fecund imagination to produce a novel that reads like a Jacobean revenge drama crossed with a slasher movie."—The Guardian (UK)

"A horrifying fantasy that will have you reexamining your love for this childhood favorite. Smooth velvety prose blends well with the deliciously complex characters and interesting storyline...A world that is nothing like Lewis Carroll ever imagined."—RT Book Reviews (top pick)
 
"Hands down one of the most imaginative and entertaining books I've read all year."—Vampire Book Club
 
"A dark and deeply disturbing revisit of Alice's Adventures in Wonderland. Who wouldn't like it?"—Kirkus Reviews

"Henry retains all the surreality of Carroll's tale but makes it even darker, leading readers down a scarier rabbit hole and into a city that's fantastical, scary and frankly more satisfying than Carroll's original...The writing is brisk, the story compulsive…A fun, chilling, exciting, magical read."—The Oklahoman