Arena (Paperback)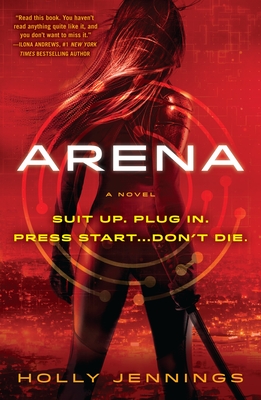 Staff Reviews
---
Kali Ling is the first female captain of Rage tournament history. Every week, she and her team fight to the digital death on TV in the Virtual Gaming League's competition. The Rage  tournament is designed to bring top gladiator/gamers together to compete in bloody combat,  face virtual death, and most import, to entertain  their  many fans. Kali and her teammates have died many times. Their weapons and armor are digital, their deaths are virtual, but the pain from fighting and dying is very real. Kali is excited to be at the top of her game until her lover and teammate overdoses. The subsequent cover-up concerning the circumstances surrounding his death makes Kali realize the truth and the lies behind the tournament. She needs to set things right and expose the League's craving for ratings at any cost. She needs to show the world the high cost gladiators pay for fame and fortune. Kali is the center of this story, a strong yet flawed heroine who is willing to buck the system and bring justice for her teammates and   herself. You don't have to be a gamer to enjoy Arena. There's  lots of action from the get-go with a bit of romance tossed into the arena for those of us who like that sort of thing (me!). For fans of the Hunger Games dystopian society or Ender's Game virtual combat.
— From
Linda's Latest List
Description
---
Now in trade paperback, the "thrilling" (New York Times bestselling author Jason M. Hough) near-future science fiction debut about the action-packed world of competitive gaming...
 
Every week, Kali Ling fights to the death on national TV. She's died hundreds of times. And it never gets easier...
 
The RAGE tournaments—the Virtual Gaming League's elite competition where the best gamers in the world compete in a fight to the digital death. Every kill is broadcast to millions. Every player leads a life of ultimate fame, responsible only for entertaining the masses.
 
And though their weapons and armor are digital, the pain is real.
 
Chosen to be the first female captain in RAGE tournament history, Kali Ling is at the top of the world—until one of her teammates overdoses. Now she's stuck trying to work with a hostile new teammate who's far more distracting than he should be.
 
Between internal tensions and external pressures, Kali is on the brink of breaking. To change her life, she'll need to change the game. And the only way to revolutionize an industry as shadowy as the VGL is to fight from the inside…
About the Author
---
Holly Jennings is a lifelong gamer who has spent innumerable hours playing World of Warcraft and Call of Duty. Arena is her first novel. She lives in Canada, where she is working on the sequel.
Praise For…
---
"A stunning debut, fast-paced, action-packed, with an interesting romance and a compelling yet flawed heroine…Read this book. You haven't read anything quite like it and you don't want to miss it."—Ilona Andrews, #1 New York Times bestselling author
 
"Blistering action right from the first page, but it's Jennings' brilliant characters that kept me logged in to Arena. A thrilling debut."—Jason M. Hough, New York Times bestselling author
 
"Think Hunger Games meets Ready Player One. Arena is serious nerdcore entertainment. Gamers, get ready to plug in!"—Chloe Neill, New York Times bestselling author
 
"Depicting the action and excitement of virtual gaming that made Ernest Cline's Ready Player One such a hit...Readers seeking more fast-paced sf about virtual reality will be pleased."—Library Journal
 
"A nuanced and complex novel with a strong, imperfect heroine and a different approach to the 'rebel in a dystopian society' trope."—RT Book Reviews
 
"With action-packed battle sequences and older computer-game references, [Arena] will appeal to fans of science fiction like Ernest Cline's Armada."—Booklist