Sorcerer to the Crown (A Sorcerer to the Crown Novel #1) (Paperback)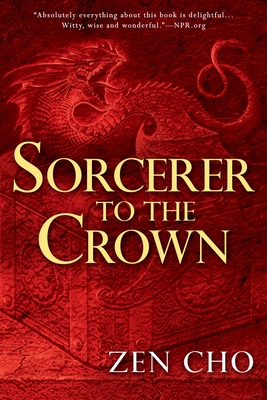 Staff Reviews
---
A unique debut fantasy taking place in an alternate 1800's England where magic seems to be on the wane and the new Sorcerer Royal need to fix it fast, if possible. Unfortunately, Zacharias Wythe will not be getting much help from his fellow members of The Royal Society of Unnatural Philosophers. You see, he's the adopted son of the former Sorcerer Royal, a freed slave and definitely not a proper gentleman. Zacharias visits Mrs. Daubeney's School for Gentlewitches, a school for suppressing the spells caste by young ladies who have a proclivity for magic. There he meets Prunella Gentleman, a young woman who will change his life forever.  Proper ladies do not practice magic as it is too much for their delicate minds and bodies. However, Prunella, an assistant at the school and an orphan whose heritage is also questionable (read "person of color"), has magical abilities far beyond any woman he has met before. She also has a dark secret involving some mysterious stones full of magic. Zacharias takes Prunella as an apprentice, intending to convince the Society to change their policies on women and magic. And so the fun begins! For those who like Jonathan Strange and Mr. Norrell, a dash of Jane Austin, dragons, some vampires, and witches too-well, who doesn't!
— From
Linda's Latest List
Description
---
Magic and mayhem clash with the British elite in this whimsical and sparkling debut.
 
The Royal Society of Unnatural Philosophers maintains the magic within His Majesty's lands. But lately, the once proper institute has fallen into disgrace, naming an altogether unsuitable gentleman as their Sorcerer Royal and allowing England's  stores of magic to bleed dry. At least they haven't stooped so low as to allow women to practice what is obviously a man's profession…
 
At his wit's end, Zacharias Wythe, Sorcerer Royal of the Unnatural Philosophers, ventures to the border of Fairyland to discover why England's magical stocks are drying up, an adventure that brings him in contact with Prunella Gentlewoman, a woman with immense power and an unfathomable gift, and sets him on a path which will alter the nature of sorcery in all of Britain—and the world at large…
About the Author
---
Zen Cho was born and raised in Malaysia, and currently lives in London. She was a finalist for the Campbell Award for Best New Writer, a nominee for the Pushcart Prize, and her short story collection Spirits Abroad was a joint winner of the Crawford Fantasy Award. Sorcerer to the Crown is her first novel.
Praise For…
---
"An enchanting cross between Georgette Heyer and Susanna Clarke, full of delights and surprises. Zen Cho unpins the edges of the canvas and throws them wide."—Naomi Novik, New York Times bestselling author of the Temeraire novels
 
"Absolutely everything about this book is delightful…Witty, wise and wonderful, Sorcerer to the Crown is an admirable achievement and a deep delight."—NPR.org
 
"Cho has humor and flair to match Pratchett and Heyer plus her own marvelous style."—Karen Lord, author of The Best of All Possible Worlds
 
"Sorcerer to the Crown felt like Pride and Prejudice but with magic and race, which makes Zen Cho Austen crossed with Susanna Clarke and Ignatius Sancho…I am utterly in love."—tor.com
 
"Zacharias brings to mind another orphaned young wizard whose combination of grit and melancholy captured readers' hearts, and ingenious, gutsy Prunella simply shines."—Publishers Weekly (starred review)
 
"Sorcerer to the Crown exceeds expectations. It's a very entertaining and deeply enjoyable novel—and if this is what Cho gives us for her debut, I'm really looking forward to seeing what she does next."—Locus

"A captivating debut that, aside from examining both gender and racial prejudice, tells an entertaining story with wit and consummate skill."—The Guardian (UK)