Bad Monkey (Mass Market Paperbound)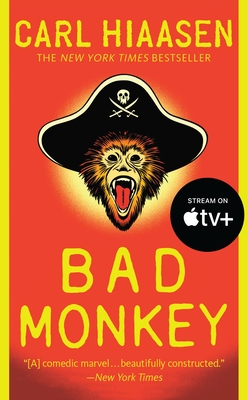 Staff Reviews
---
Hooray, Carl Hiaasen is back, bringing us a new Floridian tale of mayhem, greed corruption, voodoo, and a deranged monkey. Andrew Yancey is an ex-cop assigned to roach patrol, i.e. restaurant inspector, after being demoted for publicly assaulting his girlfriend's husband with a vacuum cleaner hose. I won't say what part of the anatomy was breached. He is asked by the local sheriff to take a severed arm to Miami for DNA testing. He now has the mauled arm in his freezer. The best-laid plans…Real estate monkey business, as well as a pet monkey belonging to a voodoo priestess in the Bahamas, draws Yancey into a crazy unpredictable adventure sure to leave you laughing.
— From
Linda's Latest List
Description
---
Andrew Yancy-late of the Miami Police and soon-to-be-late of the Monroe County sheriff's office-has a human arm in his freezer. There's a logical (Hiaasenian) explanation for that, but not for how and why it parted from its shadowy owner. Yancy thinks the boating-accident/shark-luncheon explanation is full of holes, and if he can prove murder, the sheriff might rescue him from his grisly Health Inspector gig (it's not called the roach patrol for nothing). But first-this being Hiaasen country-Yancy must negotiate an obstacle course of wildly unpredictable events with a crew of even more wildly unpredictable characters, including his just-ex lover, a hot-blooded fugitive from Kansas; the twitchy widow of the frozen arm; two avariciously optimistic real-estate speculators; the Bahamian voodoo witch known as the Dragon Queen, whose suitors are blinded unto death by her peculiar charms; Yancy's new true love, a kinky coroner; and the eponymous bad monkey-who just may be one of Carl Hiaasen's greatest characters.

About the Author
---
Carl Hiaasen was born and raised in Florida. He is the author of nine previous novels. He also writes a twice-weekly metropolitan column for The Miami Herald.