How to Stop Time (Hardcover)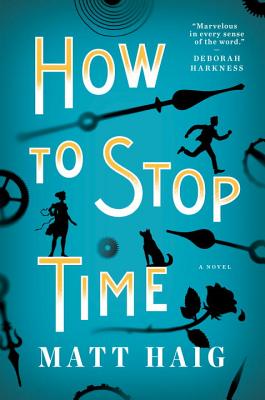 Staff Reviews
---
I've always been fascinated by tales of immortality, and this book delivers! While stories of folk like Nicholas Flamel or The Count of St Germain are full of magic and whimsy, this book takes a more pragmatic view of the situation. Our hero, Tom, was born in 1581, and he's lived a very lonely existence since, losing first his mother, and then his wife. When he moves back to London, the weight of the past nearly overshadows his life in the present. Matt Haig weaves an incredible tale of history, love, and loss through the centuries. Tom's introspective nature, coupled with the ultimate warning — "Never fall in love" — gave this story a weight that I haven't encountered in other immortality stories. I love it, and you will too!
— From
Gary's Picks!
Tom Hazard is 436 years old, though he looks like he is in his 40s. He was born in 1581 and, unlike the rest of us; he ages only one year every 15 years. Not only does his condition keep him young, it protects him from illness. This may sound like the ultimate immortal life, but for Tom it has been a lonely and sad existence since his wife died of The Plague in 1623.
In the late 1800s, Tom discovers that there are other people in the world with the same condition and he joins their "society" for his protection (and theirs). He finds himself living by rules that make his life, well, unlivable. But, what keeps Tom going is the hope that he will be reunited with his daughter Marion, who he believes, has inherited his condition.
The story of Tom's life through the centuries and the famous people he meets (Shakespeare and F. Scott Fitzgerald!) is mixed seamlessly with the narrative of his current life as a history teacher (of course!) in London. Tom's observations are a poignant commentary about the current issues of the day and the meaning of life. This is an engaging and fun read for everyone.
— From
Terry's Traffic Light Delights
February 2018 Indie Next List
---
"Both incredibly poignant and unceasingly charming, How to Stop Time is the story of a man who has an abundance of time and a scarcity of love. Tom Hazard ages very slowly, so slowly that nothing feels new to him as memories from the past crowd every moment of his present. He has also discovered that time without the people we love loses all meaning. Matt Haig takes us from Shakespeare's London to the Roaring Twenties in Paris, from conquering the new world with Captain Cook to present-day Los Angeles. Scenes both familiar and exotic thrum with life, but the real magic is in how he makes us believe in this 439-year-old man who is only now learning how to live."
— Luisa Smith, Book Passage, Corte Madera, CA
Description
---
"The first rule is that you don't fall in love, ' he said... 'There are other rules too, but that is the main one. No falling in love. No staying in love. No daydreaming of love. If you stick to this you will just about be okay.'" "A quirky romcom dusted with philosophical observations....A delightfully witty...poignant novel." --The Washington Post

"Haig's novel offers a wry, intriguing meditation on time and an eternal human challenge: how to relinquish the past and live fully in the present." --People

Named one of the most anticipated books of 2018 by Entertainment Weekly, Esquire, HelloGiggles, and Bustle. Tom Hazard has a dangerous secret. He may look like an ordinary 41-year-old, but owing to a rare condition, he's been alive for centuries. Tom has lived history--performing with Shakespeare, exploring the high seas with Captain Cook, and sharing cocktails with Fitzgerald. Now, he just wants an ordinary life. So Tom moves back his to London, his old home, to become a high school history teacher--the perfect job for someone who has witnessed the city's history first hand. Better yet, a captivating French teacher at his school seems fascinated by him. But the Albatross Society, the secretive group which protects people like Tom, has one rule: Never fall in love. As painful memories of his past and the erratic behavior of the Society's watchful leader threaten to derail his new life and romance, the one thing he can't have just happens to be the one thing that might save him. Tom will have to decide once and for all whether to remain stuck in the past, or finally begin living in the present. How to Stop Time tells a love story across the ages - and for the ages - about a man lost in time, the woman who could save him, and the lifetimes it can take to learn how to live. It is a bighearted, wildly original novel about losing and finding yourself, the inevitability of change, and how with enough time to learn, we just might find happiness.
About the Author
---
Matt Haig is the author of the internationally bestselling memoir Reasons to Stay Alive, along with five novels, including The Humans and The Radleys, and several award-winning children's books. His work has been translated into more than thirty languages.