The Disappearances (Hardcover)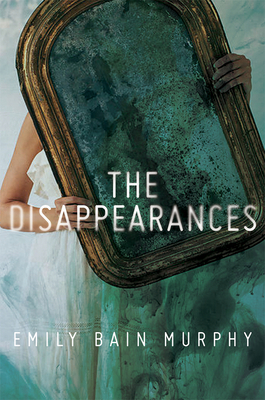 Staff Reviews
---
Emily Bain Murphy's The Disappearances overflows with marvels, literary and actual. The death of her mother forces Aila and her brother Miles to move to her mother's hometown. Once there, Aila is immediately enmeshed in mysteries. Why do the people of Sterling hate her mother, and by extension, Aila and her brother? And why do the townspeople lose every seven years another human ability: to dream, to see the stars, and to hear music? Aila's quest into her mother's past gives us readers the chance to appreciate small-town America in WWII, teen romance, magic, and—most mysteriously!—the poetry of William Shakespeare. The Disappearances is a highly original and accomplished debut.
Description
---
What if the ordinary things in life suddenly…disappeared?
 
Aila Quinn's mother, Juliet, has always been a mystery: vibrant yet guarded, she keeps her secrets beyond Aila's reach. When Juliet dies, Aila and her younger brother Miles are sent to live in Sterling, a rural town far from home—and the place where Juliet grew up.

Sterling is a place with mysteries of its own. A place where the experiences that weave life together—scents of flowers and food, reflections from mirrors and lakes, even the ability to dream—vanish every seven years.

No one knows what caused these "Disappearances," or what will slip away next. But Sterling always suspected that Juliet Quinn was somehow responsible—and Aila must bear the brunt of their blame while she follows the chain of literary clues her mother left behind. 

As the next Disappearance nears, Aila begins to unravel the dual mystery of why the Disappearances happen and who her mother truly was. One thing is clear: Sterling isn't going to hold on to anyone's secrets for long before it starts giving them up.

 
About the Author
---
Emily Bain Murphy grew up in Tokyo and Hong Kong, graduated from Tufts with a major in creative writing, and now lives in San Francisco with her family. The Disappearances is Emily's debut novel. Visit her at emilybainmurphy.com and on Twitter at @EBain.  
 
Praise For…
---
A Bookish Must Read YA Book of the Summer
A Barnes & Noble Teen Most Anticipated Book of the Second Half of 2017
A Bank Street Best Children's Book of the Year, 12-14 category

"The Disappearances is a delicious mix of mystery, fantasy and romance." —Bookpage

"At its heart, The Disappearances is a carousel of sentimental acts, of regret, the many kinds of love, the people we love, and the ways people, places, and things never truly leave us even if they've been taken. The adventure to unravel the riddle of The Disappearances made my heart race."—Ravenous for Reads

"How do we find the words to emphasize just how much we loved and enjoyed this novel? 'The Disappearances' had us captivated within it's spell from the very first page... was just beautiful, heartbreaking and irresistible...We definitely recommend this read and we are warning you, remember the name 'Emily Bain Murphy' as she is a rising author who will just leave you in awe, page after page! —Pocket Full of Pages

"Thick with mystery, buried secrets, and magic, nothing is safe in The Disappearances. Be careful, or you might lose yourself in this strange and wondrous world, where stars go missing, reflections don't exist, and the question, how much would you sacrifice for love? is given entirely new meaning. I adored this book!"–Stephanie Garber, New York Times bestsellingauthor of CARAVAL

"The Disappearances is purely poetic—a beautifully woven story with enough heart to take on its own life."—Lindsay Cummings, New York Times bestselling author of THE MURDER COMPLEX

"The Disappearances is a dazzling debut, as glimmering as the Variants themselves, with a haunting mystery, wondrous world building, and a finely wrought family at its heart. I adored it." —Jessica Spotswood, author of The Cahill Witch Chronicles

★ " Sumptuous worldbuilding, richly developed characters, and a swoon-worthy romance elevate this delightful, fantasy-tinged mystery." —PW, starred review

"...delightfully whimsical and unsettling...a story bursting with color and originality." —Kirkus

"The riddle behind the town's curse is an intricate and surprising one, and readers will happily join the clever and witty Aila on her hunt for clues." —Bulletin

". . . Murphy's debut is no doubt ambitious . . . expertly woven world, spun with secrets, lush with literary allusion, and shimmering with magic (quite literally), is a place many readers will happily disappear into." —Booklist

"The Disappearances is a book of wonder and mystery by first time novelist, Emily Bain Murphy. It is well crafted and the plot is memorable and complex. Shakespeare's words help solve the mystery, leaving the reader with a sense of hope as well as awe. This book should appeal to young adults and adults. The eloquent writing style and the well-researched inclusion of historical details make it memorable. Aila and Miles often use one word to summarize an experience, calling it a finishing word. My finishing word after reading The Disappearances is sublime."--Assembly on Literature for Adolescents of the NCTE, an ALAN pick Nov/Dec 2016