Woof: A Bowser and Birdie Novel (Paperback)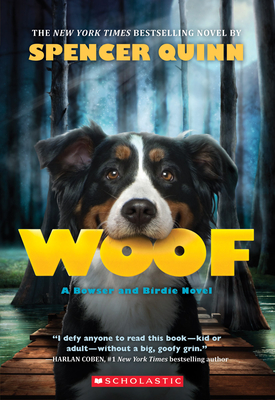 $7.99
Usually Ships in 1-5 Days
Staff Reviews
---
Spencer Quinn has already proven that he has no trouble getting inside a dog's head and providing a convincing voice with the Chet and Bernie mysteries. His new young adult series features the just adopted, slightly slobbery but handsome mutt Bowser and his new pal, eleven-year-old Birdie Gaux. When Birdie and her grandmother bring Bowser home to the family bait and tackle shop in the bayou, they find that their prize stuffed marlin is missing. Bowser and his powerful nose immediately sniff out a clue in the form of a cigar discarded by the dock. This sends Birdie and Bowser on the trail to danger. Narrated by Bowser, and similar to the mysteries as told by Chet the Jet, Woof is perfect for adults and kids who like dogs and mysteries. It helps to be easily convinced that our pooches know what's going on, but are simply distracted by bacon and cats.
— From
Linda's Latest List
Description
---
The New York Times Bestselling Mystery

There is trouble brewing in the Louisiana swamp -- Bowser can smell it. Bowser is a very handsome and only slightly slobbery dog, and he can smell lots of things. Like bacon. And rawhide chews! And the sweat on humans when they're lying.

Birdie Gaux, the girl Bowser lives with, also knows something is wrong. It's not just that her grammy's stuffed prize marlin has been stolen. It's the weird rumor that the marlin is linked to a missing treasure. It's the truck that seems to be following Birdie and the bad feeling on the back of her neck.

When Birdie and Bowser start digging into the mystery, not even Bowser's powerful sniffer can smell just how menacing the threat is. And when the danger comes straight for Birdie, Bowser knows it up to him to sic 'em.

About the Author
---
Spencer Quinn is the author of the New York Times bestselling adult mystery series, Chet and Bernie. He lives on Cape Cod with his dog, Audrey.
Praise For…
---
Advance Praise for Woof:

"Spencer Quinn speaks two languages -- suspense and dog -- fluently."
--STEPHEN KING, #1 New York Times bestselling author

"Imagine Scout Finch from To Kill a Mockingbird setting out to solve a mystery with the aid of a charming, slobbery dog. You'll wish you had Birdie and Bowser as your very best friends."
--KATHRYN LASKY, New York Times bestselling author

"Bowser and Birdie sent me into giggle fits and won my heart. Bowser deserves the Bucketful of Bacon Award for Best Dog Ever!"
--JUDE WATSON, New York Times bestselling author