Freedom's Child: A Novel (Paperback)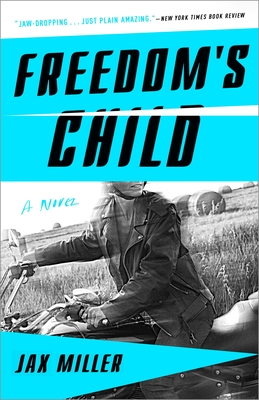 $17.60
Usually Ships in 1-5 Days
Staff Reviews
---
Upon first meeting Freedom Oliver, I was convinced I would not like this brash, drunken, tough-as-nails woman working in a small town Oregon biker bar. Surprise! Still waters run deep and Freedom is a bottomless well. Placed into a witness protection program after killing her husband, a cop, she puts her kids up for adoption, thinking they will have a chance at a better life. However, it's tough to choose which family is the most loathsome, her dead husband's sadistic family unit or the adoptive parents who seem to be part of a bizarre religious cult. When Freedom discovers that her daughter has gone missing, she loses her handlers and heads back to Kentucky, where her daughter was raised. Freedom seeks redemption, some kind of release from her internal demons. She misses her kids so much she becomes physically ill, fights depression, has a group of miscreant relatives out for revenge, and gets some unexpected help from an Oregon lawman. Freedom's Child is for those who like fast-paced chase novels with flawed characters, likable despite their faults.
— From
Linda's Latest List
Description
---
Freedom Oliver has plenty of secrets.  She lives in a small Oregon town and keeps mostly to herself.  Her few friends and neighbors know she works at the local biker bar; they know she gets arrested for public drunkenness almost every night; they know she's brash, funny, and fearless. 

What they don't know is that Freedom Oliver is a fake name.  They don't know that she was arrested for killing her husband, a cop, twenty years ago.  They don't know she put her two kids up for adoption.  They don't know that she's now in witness protection, regretting ever making a deal with the Feds, and missing her children with a heartache so strong it makes her ill.

Then, she learns that her daughter has gone missing, possibly kidnapped.  Determined to find out what happened, Freedom slips free of her handlers, gets on a motorcycle, and heads for Kentucky, where her daughter was raised.  As she ventures out on her own, no longer protected by the government, her troubled past comes roaring back at her: her husband's vengeful, sadistic family; her brief, terrifying stint in prison; and the family she chose to adopt her kids who are keeping dangerous secrets.

Written with a ferocious wit and a breakneck pace, Freedom's Child is a thrilling, emotional portrait of a woman who risks everything to make amends for a past that haunts her still.


From the Hardcover edition.
About the Author
---
Jax Miller was born and raised in New York and currently lives in Ireland.
Praise For…
---
"Everybody in Painter, Ore. knows Freedom Oliver, who makes a jaw-dropping entrance in Jax Miller's first novel FREEDOM'S CHILD…there's a reckless power to Miller's untamed prose…she can toss off a bruising one-liner…or offer a vivid description of Freedom's brain when she's off her meds... And sometimes she's just plain amazing." —New York Times Book Review

"Seldom has a literary creation bounced off the page with as much raw vitality as Freedom Oliver…one of the standout debuts of the year."—The Guardian

"It's fast, it's furious, it takes no prisoners." —The Sunday Independent

"[T]his chilling novel moves along so quickly it makes you dizzy. A compelling read but don't expect to have a good night's sleep afterwards." —The Sunday Times

"Beautiful, boozy, unstable and lion-brave, Freedom ought to belong in a comic book, but comes blisteringly to life on the page."
—Telegraph UK

"Miller creates an intriguingly flawed heroine in Freedom…thrilling." —Kirkus 

"Hits like a beer bottle to the head…" —Publishers Weekly (starred review)

"...a propulsive, full-throttle tale of revenge and redemption."— The Irish Times

"For fans of fast-paced reads, reckless characters, and noir, this thriller will be a hit." —Library Journal

"Cadenced prose salted with descriptive magic." —Booklist 

A powerful read from an impressive new voice…Visceral and brazen, Jax Miller's debut is an engrossingly raw exposé of one woman's reparation, knotted with storylines from the dirty underbelly of biker bars, Native American legends, religious cults and one shocking plot twist you'll never see coming…You'll read nothing like it!" —BookPage

"An unsettling, jarring thriller that'll have you tearing through chapters at page-ripping speed." —TheShortlist

"A terrific read from a powerful new voice." —Karin Slaughter, New York Times Bestselling author of Cop Town

"Original, compelling and seriously recommended." —Lee Child, New York Times Bestselling author of the Jack Reacher series
 
"Freedom's Child is wildly imaginative, wholly unique, and utterly unapologetic." —Attica Locke, Edgar-nominated author of Black Water Rising and Pleasantville
 
"A terrific modern noir. Think of a tough-as-nails, tattooed Mildred Pierce trying to do right in today's corrupt and twisted world. It features a wild and terrifying cast of characters, including the roughest bunch of miscreants since Ma Barker propagated." —Ace Atkins, New York Times bestselling author of The Redeemers and Robert B. Parker's Kickback

"Freedom's Child is a remarkable novel that is as emotionally gripping as it is pulse-pounding. Equally heartbreaking and hard-boiled, Jax Miller has delivered a sensational debut novel." —Ivy Pochoda, author of Visitation Street
 
"A relentless and fiercely compelling debut. FREEDOM'S CHILD will hold you captive until the very last page." —Richard Montanari, author of Deviant Way and The Doll Maker

"In Freedom Oliver, Jax Miller has created a daring protagonist that is nothing as she first appears and everything you want her to be: brash, passionate, strong, vibrant and memorable. She deftly navigates religious cults, witness protection, and internal demons all the way through to a surprising, thrilling end.  Freedom's Child is a page-turning tale of redemption that explores the complicated, intertwined bonds of motherhood and justice." —Elizabeth L. Silver, author of The Execution of Noa P. Singleton




From the Hardcover edition.