A Poison Dark and Drowning (Kingdom on Fire, Book Two) (Hardcover)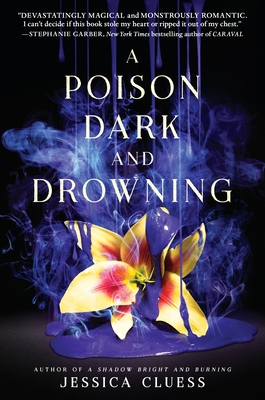 Description
---
"Devastatingly magical and monstrously romantic. I can't decide if this book stole my heart or ripped it out of my chest." --Stephanie Garber, author of Caraval The magicians want her to lead.
The sorcerers want her to lie.
The demons want her blood.
Henrietta wants to save the one she loves.
But will his dark magic be her undoing? In this gripping second book in the Kingdom on Fire series, Jessica Cluess delivers her signature mix of magic, passion, and teen warriors fighting for survival. Hand to fans of Victoria Aveyard, Sarah J. Maas, and Kiersten White. Henrietta doesn't need a prophecy to know that she's in danger. She came to London to be named the chosen one, the first female sorcerer in centuries, the one who would defeat the Ancients. Instead, she discovered a city ruled by secrets. And the biggest secret of all: Henrietta is not the chosen one. Still, she must play the role in order to keep herself and Rook, her best friend and childhood love, safe. But can she truly save him? When Henrietta finds a clue to the Ancients' past that could turn the tide of the war, she persuades Blackwood, the mysterious Earl of Sorrow-Fell, to travel up the coast to seek out new weapons. And Magnus, the brave, reckless flirt who wants to win back her favor, is assigned to their mission. Together, they will face monsters, meet powerful new allies, and discover that some old wounds are still full of poison. Praise for A Shadow Bright and Burning: "This is a novel that gives off light and heat." --The New York Times "The magic The intrigue The guys We were sucked into this monster-ridden alternative England from page one. Henrietta is literally a 'girl on fire' and this team of sorcerers training for battle had a pinch of Potter blended with a drop of Cassandra Clare's] Infernal Devices." --Justine "Unputdownable. I loved the monsters, the magic, and the teen warriors who are their world's best hope Jessica Cluess is an awesome storyteller " --TAMORA PIERCE, #1 New York Times bestselling author.
About the Author
---
JESSICA CLUESS is a writer, a graduate of Northwestern University, and an unapologetic nerd. After college, she moved to Los Angeles, where she served coffee to the rich and famous while working on her first novel, A Shadow Bright and Burning. When she's not writing books, she's an instructor at Writopia Lab, helping kids and teens tell their own stories. Visit her at jessicacluess.com and follow her on Twitter at @JessCluess.