Akata Warrior (Hardcover)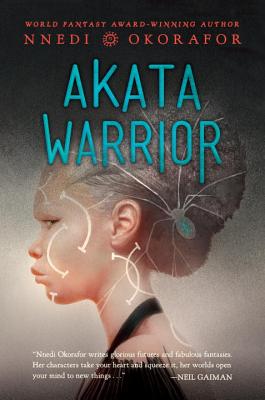 Staff Reviews
---
Sunny Nwazue was introduced to fantasy readers in Akata Witch, in which the Nigerian-American 12-year-old with albinism discovered that the differences between her New York City birthplace and the home she shares with her Igbo parents in Nigeria are separated by more than just cultural differences. Sunny is a member of the magic-wielding Leopard People; in addition to attending traditional school and playing soccer, she attends a magical school with other Leopard People students, and lives a life beyond her family's scope. When Sunny experiences troubling dreams, she is informed that they are portents of a significant ecological disaster – one she and her allies can take action against, if Sunny can get herself out of the difficulties she's created with her teacher by breaking the rules of her magic. Nnedi's integration of multiple cultures and magical systems, including both Nigerian magic and creations of her own invention, will delight readers of all ages.
— From
Nifty Novels and More from Maryelizabeth
Description
---
The newest novel by the author of Akata Witch and the forthcoming Marvel comic book series about Shuri, Black Panther's sister!

"The most imaginative, gripping, enchanting fantasy novels I have ever read!" —Laurie Halse Anderson, New York Times bestselling author of Speak

A year ago, Sunny Nwazue, an American-born girl Nigerian girl, was inducted into the secret Leopard Society. As she began to develop her magical powers, Sunny learned that she had been chosen to lead a dangerous mission to avert an apocalypse, brought about by the terrifying masquerade, Ekwensu. Now, stronger, feistier, and a bit older, Sunny is studying with her mentor Sugar Cream and struggling to unlock the secrets in her strange Nsibidi book.

Eventually, Sunny knows she must confront her destiny. With the support of her Leopard Society friends, Orlu, Chichi, and Sasha, and of her spirit face, Anyanwu, she will travel through worlds both visible and invisible to the mysteries town of Osisi, where she will fight a climactic battle to save humanity.

Much-honored Nnedi Okorafor, winner of the Hugo, Nebula, and World Fantasy awards, merges today's Nigeria with a unique world she creates. Akata Warrior blends mythology, fantasy, history and magic into a compelling tale that will keep readers spellbound.
About the Author
---
Nnedi Okorafor is a novelist of African-based science fiction, fantasy, and magical realism for both children and adults. Born in the United States to Nigerian immigrant parents, Nnedi is known for weaving African culture into creative evocative settings and memorable characters. In a profile of Nnedi's work, the New York Times called Nnedi's imagination "stunning." Nnedi has received the World Fantasy Award, the Hugo Award, and the Nebula Award, among others, for her novels. Her fans include Rick Riordan, John Green, Laurie Halse Anderson, and Ursula K. Le Guin among others.

Nnedi Okorafor holds a PhD in English and is a professor at SUNY Buffalo. She divides her time between Buffalo and the suburbs of Chicago, where she lives with her daughter. Learn more at nnedi.com or follow her on Twitter @nnedi.
Praise For…
---
Praise for Akata Warrior:

★ "Okorafor's novel will ensnare readers and keep them turning pages until the very end to see if and how Sunny fulfills the tremendous destiny that awaits her." —Booklist, starred review

★ "Akata Warrior swiftly synthesizes the lessons and knowledge of the first book into a heart-racing story of resilience and a determination to save the world. This title is a unique coming of age story, coupling the distinct experience of the cultural duality as both African and African-American with lessons of love, loyalty, and the pains of adolescent insecurities." —BCCB, starred review

★  "Don't miss this beautifully written fantasy that seamlessly weaves inventive juju with contemporary Nigerian culture and history." —School Library Journal, starred review

"Satisfy fans eager for more of Okorafor's signature brand of magic." —The Horn Book

"The narrative is well paced and multifaceted, taking the reader on a tour of both modern Nigeria and the mystical worlds of the Wilderness (sometimes simultaneously). Along the way, the reader is given a fascinating glimpse into Nigerian culture."  —VOYA

Raves for Nnedi Okorafor's writing: 

"There's more imagination on a page of Nnedi Okorafor's work than in whole volumes of ordinary fantasy epics." —Ursula K. Le Guin, award-winning author of A Wizard of Earthsea

"The most imaginative, gripping, enchanting fantasy novels I have ever read!" —Laurie Halse Anderson, National Book Award finalist and New York Times bestselling author of Speak

"I always loved science fiction, but I didn't feel I was part of it—until I read first Octavia Butler, and now Nnedi Okorafor." —Whoopi Goldberg

"Highly original stuff, episode after amazing episode, full of color, life, and death. Nnedi Okorafor's work is wonderful!" —Diana Wynne Jones, award-winning author of The Chronicles of Chrestomanci

"Jam-packed with mythological wonders." —Rick Riordan, #1 New York Times bestselling author of the Percy Jackson and the Olympians series

"Okorafor's imagination is stunning." —The New York Times Book Review

"A marvelous and uplifting read, heartwarming in its portrayal of true friendship, heartbreaking in its portrayal of headstrong youth and the perils of pride." —Cory Doctorow, award-winning author of Little Brother

"The voice of Nnedi Okorafor does not obey the rules of distance, time, or place. Hers is the voice that fuses matter and imagination. She shows us just how close we are to that alternate reality." —Tchidi Chikere, Nigerian award-winning film director and screenwriter