The Lonely Hearts Hotel: A Novel (Hardcover)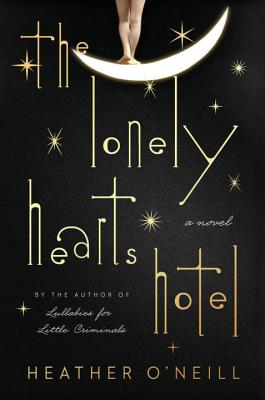 Staff Reviews
---
I am sure that comparisons will be made between The Lonely Hearts Hotel and The Night Circus. Both have a sense of magic hovering in the background and introduce fascinating protagonists with unique talents and personalities. In The Lonely Hearts Hotel, Pierrot and Rose are raised in an orphanage in Montreal in the middle of the Great Depression. Both suffered early childhood trauma at the hands of the nuns who ruled the orphanage with iron fists. But in the midst of dire despair, they find each other, discover their (almost magical) gifts, and make plans for their future. None of this plays out smoothly and their lives take discouraging turns and twists away from each other and into the depths of the Montreal criminal underworld. Ultimately, they will reunite and move toward their dream of creating entertainment that will wow their world. This book is captivating and joyful and romance rules much of the plot despite some of the dark subject matter.
— From
Terry's Traffic Light Delights
February 2017 Indie Next List
---
"If there is Canadian magical realism, this is it! The Lonely Hearts Hotel is the charming story of Rose and Pierrot, two children raised in a Montreal orphanage in the early 20th century. O'Neill traces their romance from their childhood of entertaining rich people in their homes to their less salubrious post-orphanage careers. When Rose and Pierrot meet again as adults, magic happens-but can this magic survive the rigors of the real world? Fantastic and fabulous in the truest sense of both words."
— Susan Taylor (E), Book House of Stuyvesant Plaza, Albany, NY
Summer 2018 Reading Group Indie Next List
---
"The Lonely Hearts Hotel is an enticing novel about a love between two orphans, Pierrot and Rose. As they are put through difficult situations, they go down a rabbit hole of drugs, sex, and criminal behavior. Their love goes in cycles over time, sometimes very strong and at other times waning. The Lonely Hearts Hotel is endearing, disturbing, and enchanting all at the same time. Highly recommended for those wanting to devour a strangely wonderful love story."
— Kristin Beverly, Half Price Books, Dallas, TX
Description
---
NAMED A BEST BOOK OF 2017 BY THE BOSTON GLOBE AND THE SAN FRANCISCO CHRONICLE

"So filled with vivid descriptions and complex characters that the reader's experience is virtually cinematic. . . Utterly compelling." – The Washington Post

A spellbinding story about two gifted orphans –  in love with each other since they can remember – whose childhood talents allow them to rewrite their future. 

The Lonely Hearts Hotel is a love story with the power of legend. An unparalleled tale of charismatic pianos, invisible dance partners, radicalized chorus girls, drug-addicted musicians, brooding clowns, and an underworld whose economy hinges on the price of a kiss. In a landscape like this, it takes great creative gifts to thwart one's origins. It might also take true love.

Two babies are abandoned in a Montreal orphanage in the winter of 1914. Before long, their talents emerge: Pierrot is a piano prodigy; Rose lights up even the dreariest room with her dancing and comedy. As they travel around the city performing clown routines, the children fall in love with each other and dream up a plan for the most extraordinary and seductive circus show the world has ever seen. 

Separated as teenagers, sent off to work as servants during the Great Depression, both descend into the city's underworld, dabbling in sex, drugs and theft in order to survive. But when Rose and Pierrot finally reunite beneath the snowflakes – after years of searching and desperate poverty – the possibilities of their childhood dreams are renewed, and they'll go to extreme lengths to make them come true. Soon, Rose, Pierrot and their troupe of clowns and chorus girls have hit New York, commanding the stage as well as the alleys, and neither the theater nor the underworld will ever look the same.

With her musical language and extravagantly realized world, Heather O'Neill enchants us with a novel so magical there is no escaping its spell.
About the Author
---
Heather O'Neill is a novelist, poet, short-story writer, screenwriter, and essayist. Lullabies for Little Criminals, her debut novel, was published in 2006 to international critical acclaim and shortlisted for the Orange Prize for Fiction. Born and raised in Montreal, O'Neill lives there today with her daughter.
Praise For…
---
"O'Neill's lively style is so filled with vivid descriptions and complex characters that the reader's experience is virtually cinematic... in the hands of this brilliant author, even the ugliest events are depicted with the most musical cadences, soaring arias and symphonic resolutions. Filled with inspired twists and turns, the tale is utterly compelling, creating a world where desperation and love coexist."  —The Washington Post

"A larger-than-life, gritty love story that reads like a fable...The greatest strength of O'Neill's work, however, is her wholly unique narrative voice, which is at once cool and panoramic, yet shockingly intimate and wisely philosophical. The novel brims with shimmering one-liners." —The Boston Globe

"Art, love, imagination — these values are held aloft in O'Neill's novel, with Pierrot and Rose floating through life as 'collector[s] of beautiful moments'… the nature of the theatrical spectacle Rose and Pierrot and company have created speaks to the mesmerizing effects of the novel itself." —The San Francisco Chronicle

"It is stunningly, stunningly good … O'Neill, always an original and enchanting storyteller, is at the height of her powers. The Lonely Hearts Hotel is a feat of imagination, accomplished through the tiny, marvelous details she scatters across the page."—Lit Hub/The Toronto Star

"O'Neill is an extraordinary writer, and her new novel is exquisite. She has taken on sadness itself as a subject, but it would be terribly reductive to say that this book is sad; it's also joyful, funny, and vividly alive." —Emily St. John Mandel, author of Station Eleven

"Heather O'Neill's style is laced with so much sublime possibility and merciless reality that it makes me think of comets and live wires and William Blake's 'The Tyger.' Between prose like that and a story like this, you have a book that raises goosebumps and the giddiest of grins." —Helen Oyeyemi, author of What Is Not Yours Is Not Yours

"Because this book is so filled with delightful things, it would be easy to overlook how finely it is made. The Lonely Hearts Hotel sucked me right in and only got better and better, ultimately becoming much tougher, wiser than I was prepared for. I began underlining truths I had hungered for but never before read. By the end I was a gasping, tearful mess." —Miranda July, author of The First Bad Man

"A fairy tale laced with gunpowder and romance and icing sugar, all wrapped round with a lit fuse. Each of Heather O'Neill's sentences pricks or delights. If you haven't read her other books, start with this one and then read all of the rest." –Kelly Link, author of Pulitzer Prize finalist Get in Trouble
 
"[Walks] the hypnotic line between tragedy and fairy tale...O'Neill's prose is crisp and strange, arresting in its frankness; much like the novel itself, her writing is both gleefully playful and devastatingly sad. Big and lush and extremely satisfying; a rare treat."  —Kirkus (starred review)

"In a love story of epic proportions, O'Neill's excellent historical novel plumbs the depths of happiness and despair...At the very end of the tunnel are floodlights to the stage, sad clowns, gigantic moon props, chorus girls, and the one thing that time and distance cannot diminish--true love grander than any circus act. This novel will cast a spell on readers from page one." —Publishers Weekly (starred, boxed review)

"O'Neill is a mistress of metaphor and imagery ('her sobs were flung on the deck'). This is brilliant tragicomedy...in a melancholy love story that brings to life the bygone days of theatrical revues. It's a little weird and a lot of fun." —Booklist (starred review)

"This simultaneously heart-breaking and life-affirming novel depicts the range of the human experience through the eyes of its almost preternaturally charismatic hero and heroine… O'Neill's prose is gorgeous, with arresting imagery." —Library Journal (starred review) 

"All at once, The Lonely Hearts Hotel is whimsical, melancholy, tragic and delightful—a wonderful feat that recreates the ambivalence of life. Throughout the novel, the bleakest of realities are colored by magic, and the most joyful moments are cloaked in subtle gloom… a highly original work of fiction." –BookPage 

"O'Neill's fairy tale spins a bittersweet spell…Brazen, offbeat and thoroughly bewitching, The Lonely Hearts Hotel mixes the sacred and profane into an effervescent love potion." —Shelf Awareness

"Magical and charming and sexy and raunchy and enchanting."—BookRiot

"O'Neill fuels her prose with a frothy charm that's almost self-deprecatingly simple, letting its depth sneak up on you... it's the kind of book that both bookworms and casual readers would discuss with friends over coffee, appreciating its humor and quotability." —Open Letters Monthly