Sparrow Hill Road (Paperback)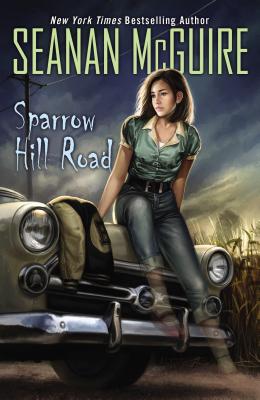 $17.60
Usually Ships in 1-5 Days
Staff Reviews
---
Seanan offers her own take on urban legends and ghost stories with the tale of Rose Marshall, the Dead Prom Date, who's haunted the highways and byways of America since she was killed in the early 1950s. Rose has found a pastime in her afterlife, guiding others as needed, sometimes onto the ghostroads and sometimes onto a detour until a later date. And she's been evading Bobby Cross, a man who fuels his immortality through the sacrifice of others – including Rose on that fateful night – for decades. But she can't outrun him forever… Pull up a stool, sip on a milkshake, and enjoy the mythology of midnight America.
— From
Maryelizabeth's Past Reviews
Description
---
Rose Marshall died in 1952 in Buckley Township, Michigan, run off the road by a man named Bobby Cross--a man who had sold his soul to live forever, and intended to use her death to pay the price of his immortality. Trouble was, he didn't ask Rose what she thought of the idea. It's been more than sixty years since that night, and she's still sixteen, and she's still running. They have names for her all over the country: the Girl in the Diner. The Phantom Prom Date. The Girl in the Green Silk Gown. Mostly she just goes by "Rose," a hitchhiking ghost girl with her thumb out and her eyes fixed on the horizon, trying to outrace a man who never sleeps, never stops, and never gives up on the idea of claiming what's his. She's the angel of the overpass, she's the darling of the truck stops, and she's going to figure out a way to win her freedom. After all, it's not like it can kill her. You can't kill what's already dead.
About the Author
---
Seanan McGuire is a California-based author with a strong penchant for travel and can regularly be found just about anyplace capable of supporting human life (as well as a few places that probably aren't). Early exposure to a vast number of books left her with a lifelong affection for the written word, and led, perhaps inevitably, to her writing books of her own, starting somewhere around the age of eleven. The October Daye novels are her first urban fantasy series, and the InCryptid novels are her second series, both published by DAW and bother of which have put her in the New York Times bestseller list. Seanan was the winner of the 2010 John W. Campbell Award for Best New Writer; Rosemary and Rue, the first novel in the October Daye series, was named one of the Top 20 Paranormal Fantasy Novels of the Past Decade; and her novel Feed, written under the name Mira Grant, was named as one of Publishers Weekly's Best Books of 2010. She also won a Hugo for her podcast, and is the first person to be nominated for five Hugo Awards in a single year. You can visit her at www.seananmcguire.com.
Praise For…
---
"Seanan McGuire doesn't write stories, she gifts us with Myth -- new Myths for a layered America that guide us off the twilight roads and lends us a pretty little dead girl to show us the way home."—Tanya Huff

"McGuire is a writer to be reckoned with, landing stone-cold emotional blows in quick succession while simultaneously stringing laugh-out-loud moments alongside lush descriptions, knife-sharp badinage and quickfire action sequences." —Strange Horizons
"McGuire applies a hard-boiled mentality and a keen appreciation for mythology to a blend of politics, magic, and romance."—Publishers Weekly