Redder Than Blood (Paperback)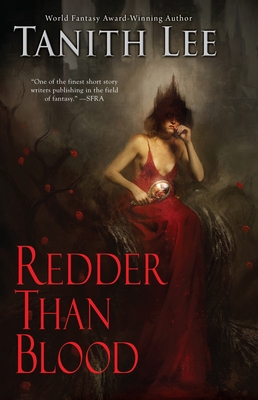 Staff Reviews
---
Tales of brutality. Tales of beauty. Romantic faerie lovers. Abusive husbands. Master fantasist Tanith Lee's stories of twisted fairy tales, newly collected in this volume, presents heart-wrenching stories of cruelty and darkness blended beautifully with a strange loveliness. A collection that is arresting and striking, and yet one that evokes that essential fairy tale feeling. I devoured these tales whole.
— From
Kelly
Description
---
A vampiric Snow White whose pious stepmother is her only salvation....

A supernatural Cinderella who strikes at midnight, leaving behind a prince mad with desire....

A sleeping beauty never meant to be woken...

In her World Fantasy Award-nominated short story collection, Red as Blood, Tanith Lee deconstructed familiar fairy tales, recapturing their original darkness and horror in haunting new interpretations. Behind gilded words and poised princesses, she exposed a sinister world of violence, madness, and dangerous enchantments.

With Redder than Blood, Lee resumes the tradition of twisting tales. Among its nineteen tales, this volume explores unnerving variations of Beauty and the Beast, The Frog Prince, Snow White, and other classics, including three never-before-published stories.

A recognized master fantasist, Tanith Lee has won multiple awards for her craft, including the British Fantasy Award, the World Fantasy Award for Life Achievement, and the Bram Stoker Award for Lifetime Achievement in Horror.
About the Author
---
Tanith Lee is one of the leading fantasy authors working today. She has written over 50 novels and short story collections, among them the bestselling Flat Earth Series. She has won the World Fantasy Award numerous times as well as the August Derleth Award.
Praise For…
---
Praise for Red as Blood:

"Lee has conceived something unique and executed it superlatively well, displaying gifts as both a fantasy writer and a folklorist." —Booklist 

"Tanith Lee is Fantastika's Joyce Carol Oates.... You can imagine these timeless stories whispered around an oasis campfire or in a sharship's engine room." —Locus 

"[Tanith Lee is the] Princess Royal of Heroic Fantasy and Goddess-Empress of the Hot Read." —Village Voice

"Lee's entrancing and vivid style make what may seem a minor exercise into a collection of essentially new stories with some of the resonances of folklore." —Publishers Weekly

"Lee is equally at home with sf and fantasy, and in this collection of nine stories, she turns some familiar fairy tales inside-out, investing them with an unearthly aura." —Library Journal

"[Lee retells] these classics with unique, insightful, often terrifying twists." —Kliatt

"These are not just rewritten stories, they are retold. And the retelling is good enough that many of them ring as true as the originals." —Science Fiction and Fantasy Book Review

"All of Lee's stories have a style which is heroic, convincing and is feminist without interfering with the overall impact of her fiction. Red as Blood is one of her best." —Fiction, Literature and the Arts Review

"[Tanith Lee] is one of the finest short story writers publishing in the field of fantasy and SF today." —SFRA