Farseed: The Seed Trilogy, Book 2 (Paperback)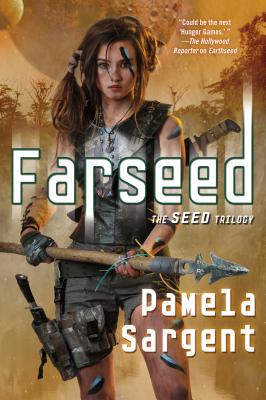 Staff Reviews
---
Although Farseed has less of a science fiction emphasis in the storyline than the Seed Trilogy's first book, Earthseed, it's worth the read to discover how the planet-born generation is adapting on Home.  Twenty years ago the ship-born established the settlement and Zoheret's rival for leadership, Ho, broke away and started his own.  Now, Ho's daughter Nuy and Zoheret's daughter Leila are on journeys towards each other.  For Nuy, after finding strangers results in her becoming an outcast, it's primarily a solitary search for a way back to the only, albeit meager, life she has known.  While for Leila, in the company of friends and her mother, it's a group quest to find Nuy' strangers and the break-away settlement Ho founded.  Two adolescents, on contrasting treks, meet in unexpected danger and sorrow.  Discover what destiny holds for them on Home.  Those who seek adventure stories will embrace this coming-of-age tale.
— From
Adrean Darce Brent
Description
---
Centuries ago, the people of Earth sent Ship into space. Deep within its core, it carried the seed of humankind....
More than twenty years have passed since Ship left its children on an uninhabited, earthlike planet. Zoheret and her companions have started settlements and had children of their own. But soon after their arrival, Zoheret's old nemesis, Ho, struck out on his own.
When Ho's daughter, fifteen-year-old Nuy, spies three strangers headed toward their home, the hostility between the two groups of old shipmates begins anew. In Pamela Sargent's Farseed, can the divided settlers face the challenges of adapting to their new environment in spite of their conflicts?
About the Author
---
Pamela Sargent is the author of many highly praised novels for young adults and adults, among them the historical novel Ruler of the Sky, the alternative history Climb the Wind, and the science fiction novels Venus of Dreams, Venus of Shadows, Child of Venus, The Shore of Women, Alien Child, and Earthseed, which was recently optioned by Paramount Pictures. She has won the Nebula Award and the Locus Award, and has been a finalist for the Hugo Award and the Theodore Sturgeon Memorial Award. She lives with writer George Zebrowski in upstate New York.
Praise For…
---
"This thoughtful planetary adventure is extremely well done. This novel is a fine example of [Sargent's] work." —VOYA on Farseed
"The interpersonal dynamics, plus the challenges of adapting to another world, give this long-awaited second book in the Seed Trilogy strong appeal." —Booklist on Farseed