The Other Woman (Hardcover)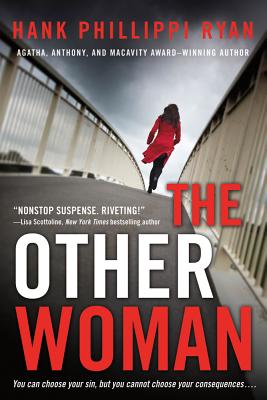 September 2012 Indie Next List
---
"Political scandals, power plays, and deception -- the twists and turns in this first of a new series will leave you gasping and wanting more. Jane Ryland, a rising young reporter, is scarred from the fallout of protecting a source, but she still delves into the biggest story gripping Boston: Who is killing young women and leaving them under bridges, and why? And just who is the 'other woman?' Agatha, Anthony, and Macavity award-winner Ryan's writing is compelling, and her insight into the characters creates a gripping page-turner that will leave you eager for the next chapter in the life of Jane Ryland."
— Joan Lang, Front Street Book Shop, Scituate Harbor, MA
Description
---
Jane Ryland was a rising star in television news until she refused to reveal a source and lost everything. Now a disgraced newspaper reporter, Jane isn't content to work on her assigned puff pieces, and finds herself tracking down a candidate's secret mistress just days before a pivotal Senate election.
Detective Jake Brogan is investigating a possible serial killer. Twice, bodies of unidentified women have been found by a bridge, and Jake is plagued by a media swarm beginning to buzz about a "bridge killer" hunting the young women of Boston.
As the body count rises and election looms closer, it becomes clear to Jane and Jake that their cases are connected and that they may be facing a ruthless killer who will stop at nothing to silence a scandal.
Dirty politics, dirty tricks, and a barrage of final twists, "The Other Woman" is the first in an explosive new series by Hank Phillippi Ryan. Seduction, betrayal, and murder it'll take a lot more than votes to win this election.
About the Author
---
HANK PHILLIPPI RYAN is the investigative reporter for Boston's NBC affiliate, and has won twenty-eight Emmys and ten Edward R. Murrow awards. A Boston Globe bestselling author, Ryan has won the has won two Agatha Awards, in addition to the Anthony, Macavity, Daphne du Maurier, and Mary Higgins Clark Award. She's on the national board of directors of Mystery Writers of America and Sisters in Crime and is the author of The Other Woman, The Wrong Girl and Truth be Told.
Praise For…
---
"If you haven't read Hank Phillippi Ryan yet, you should, and The Other Woman is the perfect place to start. A killer plot, compelling characters, and nonstop suspense. Riveting!"
—Lisa Scottoline, New York Times bestselling author
"The Other Woman does everything a great suspense novel should…  Ryan raises the bar sky-high—I knew she was good, but I had no idea she was this good."
—Lee Child, New York Times bestselling author
"Nonstop action, written from the rare perspective of one who knows the news business from the inside out… Ryan grabbed me on page one. As current as today's headlines, The Other Woman is a wholly entertaining read. Just when you think you know it all, Ryan surprises with another twist."
—Sandra Brown
"A thriller that twists so fast it'll leave you gasping. If you think you know where this story's going, you don't —but I promise, you won't want to wait to find out. Hank Phillippi Ryan is a star."
—Joseph Finder, New York Times bestselling author
"A rocket ride of a thriller!  Ryan effortlessly captures the frenetic pace of colliding lives, cutting edge journalism, and killer secrets, as only a true insider would know.  Brava!"
—Lisa Gardner, New York Times bestselling author
"A master of timing, Hank Phillippi Ryan serves up a powerful fusion of political intrigue and dastardly crime that keeps the reader captivated until the final, explosive ending."
-Karin Slaughter, New York Times bestselling author
"A heart-stopping finale...Innocent bystanders beware! This series is off and running."
--Sue Grafton, New York Times bestselling author