Impact (Wyman Ford Series #3) (Paperback)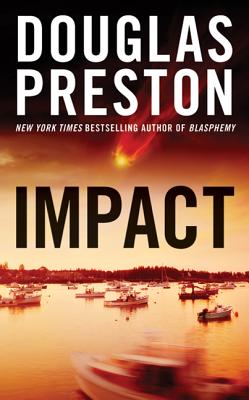 Staff Reviews
---
I let my husband read Impact first because the cover had a fiery ball of flames hurtling toward earth and I thought, oh yeah, another apocalyptic meteor collision. Call Bruce Willis and full speed ahead to save the world. But my husband said, "Hey, this is great. I think you'll really like it." Blast it. Right again! Impact IS a blast! We've got three scenarios. First up is former CIA operative Wyman Ford, last seen in Blasphemy, checking out radioactive gemstones mined in Cambodia. Over in Maine, college dropout and frustrated astronomer Abbey Straw spots a meteor landing near one of the many small islands near her home. She wants to cash in by selling fragments on e-bay, so she and girlfriend Jackie begin a search for the impact crater. And then there's the angry red planet. Gamma rays from Mars? Mark Corso, a Mars mission technician at the National Propulsion Facility gets hold of some very classified and dangerous data. How do these three occurrences tie together? Well, I'm not telling, so you'll have to read Impact to find out. There are several reasons why I loved this story. The two women searching for the impact make a great team. While they are hunting down the point of impact, a psycho who wants in on the action, even though he doesn't know what the action might be is chasing them! Wyman Ford kicks ass over in Cambodia in a totally moral way. And the mysterious gamma rays along with a High resolution NASA image revealing a feature hidden in the depths of a crater on Mars reveal some unique surprises about this Impact.
--LNT (and hubby Jan Tonnesen)
— From
Linda's Latest List
February 2010 Indie Next List
---
"Impact is impossible to put down, filled to the brim with action, interesting characters, excitement, and adventure! Douglas Preston keeps the reader on the edge as the story reaches the climax."
— Lee Rolofson, Summer's Stories, Kendallville, IN
Description
---
In Douglas Preston's Impact, Wyman Ford is tapped for a secret expedition to Cambodia... to locate the source of strangely beautiful gemstones that do not appear to be of this world.
A brilliant meteor lights up the Maine coast... and two young women borrow a boat and set out for a distant island to find the impact crater.
A scientist at the National Propulsion Facility discovers an inexplicable source of gamma rays in the outer Solar System. He is found decapitated, the data missing.
High resolution NASA images reveal an unnatural feature hidden in the depths of a crater on Mars... and it appears to have been activated.
Sixty hours and counting.
About the Author
---
Douglas Preston is the co-author with Lincoln Child of the celebrated Pendergast series of novels, including such bestselling titles as Fever Dream, The Book of the Dead, The Wheel of Darkness, and Relic, which became a number one box office hit movie. His solo novels include the New York Times bestsellers Impact, Blasphemy, The Codex, and Tyrannosaur Canyon. Preston is an expert long-distance horseman, a member of the elite Long Riders Guild, and a Fellow of the Royal Geographical Society. He has travelled to remote parts of the world as an archaeological correspondent for The New Yorker. He also worked as an editor and writer at the American Museum of Natural History in New York and taught nonfiction writing at Princeton University. Preston is on the Board of Directors for International Thriller Writers, and serves on the Governing Council of the Authors Guild.
Praise For…
---
"Some hopeful science fiction fans such as yours truly have begun to see Preston as the possible successor to the recently deceased Michael Crichton… Some novels you want to savor, some you want to read so quickly that you can scarcely keep yourself from tearing pages as you move forward. Preston's entertaining accomplishments tend toward the latter." —Alan Cheuse, National Public Radio
"What this book needs is a mind eraser, one that sweeps it from your mind so that you can pick it up and read it again, new and fresh. Yeah, it's that good. People who enjoy a good dose of action, well-explained science and brilliant science fiction will find themselves spellbound with Impact. But once you read it, too bad. It would be nice to forget it, and then read it again." —Lincoln Journal Star
"Impact is out of this world. Simply put, Douglas Preston has crossed over into a new frontier of thriller. It is a fireball of astronomic proportion that will leave you gasping for air! So buckle up, turn off the phone, and don't forget to breathe." —Brad Thor, #1 New York Times bestselling author of The Apostle
"Douglas Preston's wildly creative novels expertly blend real science and heart-stopping thrills. He is, quite simply, the new and improved Michael Crichton." —Tess Gerritsen, New York Times bestselling author of The Keepsake
"A brilliantly executed thriller—exciting, fascinating, and thought-provoking. The kind of book you want to savor—and when dawn comes you realize that it has taken off like a rocket and swept you through the night. Wild and wonderful reading fun! A highly original and yet eerily plausible premise." —Whitley Strieber, New York Times bestselling author of Critical Mass
"Brilliant . . . full of huge ideas, but intensely human, too, and intensely suspenseful." —Lee Child, New York Times bestselling author of the Jack Reacher novels
"Preston will have his readers checking the sky for falling objects. Impact delivers one . . . and then some!" —Sandra Brown, New York Times bestselling author of Smash Cut: A Novel
"One of our best writers and entertainers is back, so make sure that your seat belts are securely fastened and your tray tables are stowed, because—no surprise—Douglas Preston pulls it off yet again: another fast-paced, action-packed, mind-bending adventure. You'll be sorry when the flight is over and your imagination returns you to the real world." —William Martin, New York Times bestselling author of The Lost Constitution