River of Teeth (Paperback)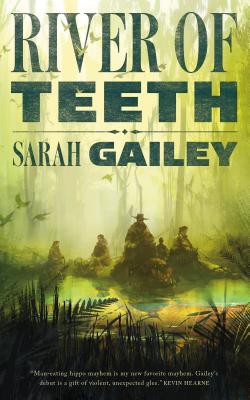 $14.99
Usually Ships in 1-5 Days
Staff Reviews
---
The basis for this story is a plan that our government came up in the early 1900's to import hippos into the Louisiana rivers and marshlands to be bred for a possible meat source. Nevermind that they are ferocious creatures with very strong jaws, capable of killing a person pretty darned fast. Bad idea rejected. River of Teeth takes place in an alternate 1890's America where feral hippos have run amok in the bayous. Professional hippo wranglers are hired to clear out a particular bayou where a gambling ship abides. The leader, Winslow Houndstooth, his faithful hippo Ruby, and his crew are on the job. Yes, we have man-eating hippo mayhem in the old west. The tame hippos are ridden rather like horses and can navigate the waterways so their riders can search for the deadly feral hippos and hopefully herd them away from populated areas. What ensues is a clever and violent caper, where Houndstooth and his crew are trying to make their fortune by taking on a very, very dangerous job. Just go ahead and suspend your disbelief. Your reward is a thoroughly enjoyable caper that comes with a big bite.
— From
Linda's Latest List
Description
---
A Finalist for the 2017 Nebula Award for Best Novella

Sarah Gailey's wildfire debut River of Teeth is a rollicking alternate history adventure that Charlie Jane Anders calls "preposterously fun."
In the early 20th Century, the United States government concocted a plan to import hippopotamuses into the marshlands of Louisiana to be bred and slaughtered as an alternative meat source. This is true.
Other true things about hippos: they are savage, they are fast, and their jaws can snap a man in two.
This was a terrible plan.
Contained within this volume is an 1890s America that might have been: a bayou overrun by feral hippos and mercenary hippo wranglers from around the globe. It is the story of Winslow Houndstooth and his crew. It is the story of their fortunes. It is the story of his revenge.
About the Author
---
Hugo and Campbell finalist SARAH GAILEY came onto the scene in 2015 and has since become one of the sharpest, funniest voices in pop culture online. They are a regular contributor for multiple websites, including Tor.com. Their nonfiction has appeared in Mashable and The Boston Globe, and their fiction has been published internationally. They have a novel forthcoming from Tor Books in Spring 2019. They live in Portland, Oregon.