Ginny Moon (Hardcover)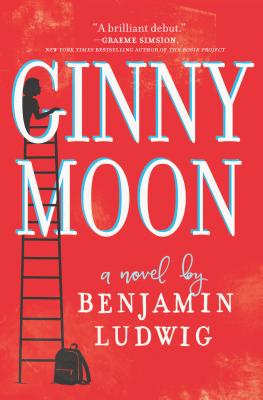 $26.99
Usually Ships in 1-5 Days
Staff Reviews
---
As you might imagine, I have read a number of page turners in my time. But I can honestly say that I have never been this breathless as I read and walked in the steps of this delightful, yet damaged 14-year-old autistic girl. Ginny Moon is finally living with her "forever parents" after spending most of her life either with her abusive mother or bouncing around the foster care system.  She is a handful for her new family, but they understand her special needs and have adopted her and love her.
Ginny has a substantial support system both professionally and at school, which monitors her every move. The problem is that Ginny cannot get past abandoning her "baby doll" and there is a huge miscommunication about the importance and meaning of this issue. The resulting race against time and Ginny's ability to circumvent those who love her will leave you breathless too.
Not only is this a compulsive read, but it is also a rare insight into the thought process of an autistic child and this is priceless. Ludwig drew from his own experiences as an adoptive father to an autistic teenager. We thank him for sharing his love and his experience.
— Terry Gilman
May 2017 Indie Next List
---
"In a novel both heartwarming and heartbreaking, Benjamin Ludwig draws you into Ginny Moon's world and has you holding your breath until the last page. Told from Ginny's perspective, the story gives readers the unique advantage of seeing the world in all its confusion through the eyes and mind of a 13-year-old autistic girl. Taken from an abusive mother when she was nine, Ginny has struggled within the foster care system for several years, finally ending up with her current 'forever family.' Ginny is lovable yet frustrating, and totally unforgettable!"
— Maxwell Gregory, Lake Forest Book Store, Lake Forest, IL
Description
---
READ THE BOOK CRITICS ARE RAVING ABOUT "A brilliant debut." --Graeme Simsion, New York Times bestselling author of The Rosie Project "A heartwarming and unforgettable page-turner." --Booklist, starred review "A powerful affirmation of the fragility and strength of families." --Publishers Weekly, starred review "At once captivating and heart-wrenching.... Ginny's is a unique and compelling voice.... Ginny Moon is original, revealing and timely. And, with any luck, it will spark much-needed conversations around foster care, adoption and autism. " --The Toronto Star Full of great big heart and unexpected humor, Ludwig's debut introduces the lovable, wholly original Ginny Moon who discovers a new meaning of family on her unconventional journey home. Ginny Moon is exceptional. Everyone knows it--her friends at school, teammates on the basketball team, and especially her new adoptive parents. They all love her, even if they don't quite understand her. They want her to feel like she belongs. What they don't know is that Ginny has no intention of belonging. She's found her birth-mother on Facebook, and is determined to get back to her--even if it means going back to a place that was extremely dangerous. Because Ginny left something behind and she's desperate to get it back, to make things right. But no one listens. No one understands. So Ginny takes matters into her own hands... Benjamin Ludwig's whip-smart, unforgettable novel is an illuminating look at one girl's journey to find her way home and one of the freshest debuts in years. Note from the Publisher: The original printing of this book features a creative distressed-look on the cover design.